You would be surprised – or maybe you wouldn't – by how many people in your organization don't understand how the organization accomplishes its work.
To be honest, it used to surprise us. We would run learning programs on a topic, like say, financial acumen, and it would never fail: People in the accounting department would say things like, "huh, I guess I should know these details about the balance sheet but I don't." And that's coming from the guys in Accounting.
It's an organizational myopia that we now recognize as commonplace. In fact, we empathize. We all have a tendency to view the world from the point of view of our own work, our own desk.
Like Galileo, leadership often involves delivering the unwelcome message that you, the individual, are not the epicenter of your organization's process.
Fortunately, we at Blueline Simulations fare much better than Galileo for being the bearer of this message. In fact, we've found that giving people a view of the big picture is quite liberating, and a key step in generating organizational transformation.
And we have found that the best way to give that big picture is with an actual picture.
Using metaphors and a balance of both quantitative and qualitative data, we render the complex processes and work flows of your organization with a compelling degree of engagement.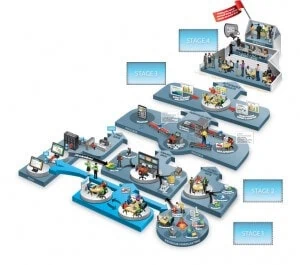 Equipped with an enterprise view via a Blueline Blueprint Learning Visual, our learners report that:
I have a better appreciation for where I fit in the process.
Now I understand why the work those guys do in department X is so important.
I appreciate the difficult decisions that the leaders have to make to manage the many moving parts of this process.
I see ways to make my work more efficient, more focused, more optimized to the organization's desired output.
Find out how a Blueline learning map can equip your people with an enriched understanding of your organization's key processes and workflows. Contact us today for a demonstration.