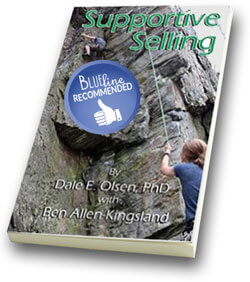 We've all suffered the same business development challenges. Identify a prospect who can benefit from our services, demonstrate to them that we can bring value, and convince them that they need to take action now. Repeat as often as possible.
Making major sales on a regular basis just got easier. Dale Olsen's latest book details a break-through sales model that gives your organization a significant competitive advantage by combining consultative sales and motivational interviewing techniques.
We have combined this easily adapted sales model with the most effective interpersonal skills-building technology ever designed to produce an unrivaled sales skills training system now available for delivery via ILT, VILT and as online performance support.
Would you like to learn more or to take a free test drive of the simulation? Visit PEOPLESIM™: Supportive Selling Skills or schedule an appointment with Blueline today.