How do you know if your learning programs are delivering their intended impact? And how can you make the case for investment to financial directors and CEOs? Like many business initiatives, being able to demonstrate a return on investment (in this case, return on learning investment) is a powerful way to justify past expenditures and make the case for future investment.
What is ROLI?
Return on learning investment, or ROLI, is a formula used to demonstrate the return on investment (ratio of a project's financial outcomes to its cost) of learning initiatives. Measuring the cost to deploy professional training is relatively straightforward, but measuring training's impact (personal value to learners and business value to the company) is often more of a challenge. Training is often implemented in parallel with other business initiatives, which complicates the process of quantifying its value. Further, some types of training initiatives lend themselves to an obvious financial impact on the business (sales training is a classic example), whereas others (leadership, coaching, people skill development, etc.) have more of an indirect effect on business KPIs.
Nevertheless, it is possible to measure (at least some of) the return on a training investment if you collect the right data. With a data-driven approach, you'll be better positioned to understand how training helps achieve strategic business goals and affects the bottom line.
Why calculate return on learning investment?
ROLI is a historical measure of an initiative's impact on the business, and a strong ROLI of a past investment can help build the case for similar investments in the future. You can also use a projected ROLI to help you plan new programs and make a business case for the investment. A projected ROLI can help you to:
Accurately predict outcomes
Justify budgets
Align projects to business needs
Show contributions of selected projects
Earn the respect of senior business leaders
Build staff morale
Gain learner buy-in by communicating the value of the learning experience
Improve support for projects
Enhance the design and implementation processes
Identify inefficiencies that need to be redesigned or eliminated
Identify successful projects that can be deployed in other areas
Ensure C-level leadership can appreciate what they are buying with finite resources
Implementation Showcase
See how we've delivered immersive learning experiences that facilitate business transformation for some of the world's largest companies and best-known brands.
How to measure and demonstrate ROLI
ROLI is traditionally calculated using the following formula:


For many learning initiatives, it can be challenging (if not impossible) to quantify the results of a training intervention in dollars. Much work in this field has been accomplished by Jack and Patti Phillips of the ROI Institute, as well as other thought leaders in the field of learning measurement. But even if a training investment can be clearly connected to financial outcomes, training can still only achieve ROLI when it leads to changes in behavior that help meet business objectives. L&D professionals should be able to measure skill and performance levels before and after training, evaluating:
New abilities or skills after training
Application rate (participants applying new learning on the job)
Tangible improvements in productivity or efficiency
Tangible improvements in quality of work
The link between changed behaviors and business objectives, which is key to assigning financial value to training results
Ideas to collect the data
Course evaluations and feedback
Skills and knowledge assessments
Learner self-reports
Reports from learners' managers
Learner KPIs
Measures and values of business impact
Expanding on the formula for ROLI
Blueline's ROLI formula expands on how to define the financial results by taking a deep dive into the various factors that influence the financial impact of training. You cannot influence every variable in our expanded ROLI formula, but many of them can be affected with the right planning and learning design.


S
Baseline knowledge, skill, or behavior level before training
Δ
Potential impact of new skill on productivity
P
Current performance
R
Application/retention factor as determined by: Cognitive ability (difficult to influence) Learner motivation (motivation can be affected by lots of things, including proximity of training to a requirement to apply the skills on the job) Learner engagement with the content (this is where immersive learning designs make a difference)
T
Learning objectives and KPIs
C
Total cost of the training, including development, delivery, and opportunity cost of removing learners from the job:
Initial analysis and assessment Development of solutions Acquisition of solutions Implementation and application Salaries/benefits for program team time Salaries/benefits for coordination time Salaries/benefits for participant time (opportunity cost of time spent in training) Program materials Hardware/software Travel/lodging/meals/use of facilities (many of which can be avoided by delivering learning experience virtually) Capital expenditures Maintenance and monitoring Administrative support and overhead Evaluation and reporting
You can find an example to explain the formula for maximizing ROLI in our free guide: Building the Business Case for Immersive Learning.
Your turn!
We've created a complete guide to Building the Business Case for Immersive Learning, including a free template that you can use when building your own business case. We recommend leading with the target ROLI to capture the attention of senior leaders and encourage them to dig deeper. Although you won't have all the data at this stage, estimating ROLI will help you show how immersive learning has the potential to deliver a higher ROLI than past learning investments.
You can download the guide and the template here.
If you need further assistance, we are ready to help you find the greatest areas of business impact for immersive learning and begin building a business case for your company. Get in touch to set up a free consultation with one of our experts.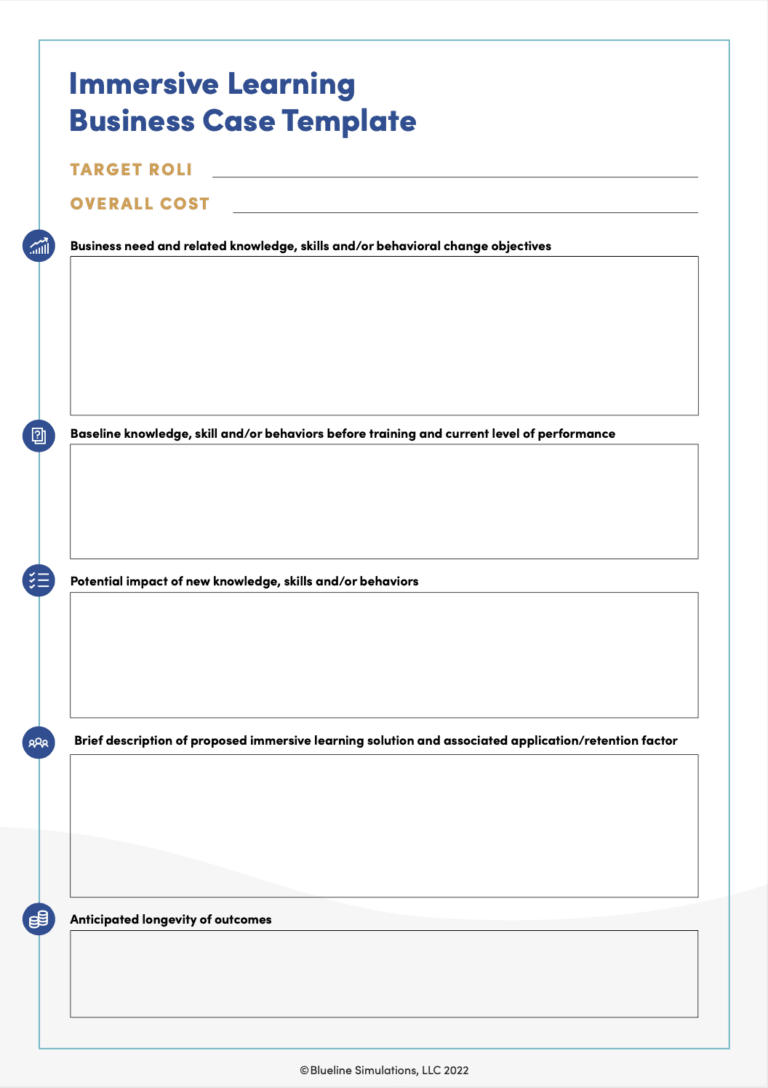 Establishing ROI for Learning Initiatives
Download our free template to help you develop your business case for immersive learning and gain buy-in from employees and executives for your learning and development initiatives.