Do you remember your first week on the job? Do you fondly recall the awkward greetings, uncertainty of what to do next, initialing a seemingly endless pile of documents, demonstrating proof of your identity over and over again, and assessing whether or not you will upset your new co-workers if you help yourself to the milk in the fridge? You may count yourself lucky if you had some form of an onboarding experience, which likely consisted of a pile of collateral dumped on your desk (or uploaded to your computer) for you to read.
Over the last few years, however, many organizations have come to realize that neglecting to optimize the onboarding process is a massive missed opportunity. And now, with the added complication of onboarding remote employees, it's more important than ever to leverage employee onboarding as a unique value proposition—especially in an environment where the war for top talent rages on.
The benefits of better employee onboarding
There are many reasons why our clients invest in designing and developing superior onboarding programs. New hire orientation training is a pivotal moment in the employee lifecycle; welcoming employees into your organization is an opportunity to immerse them in your culture and accelerate job readiness and time to productivity. And the world of remote and hybrid work has brought with it a renewed focus on employee engagement and affiliation as a way of reducing the costly attrition brought on by the pandemic and the Great Resignation. The key takeaway is that there's never been a better time to focus on a formal onboarding program that becomes a competitive advantage.
Hybrid workforce employee onboarding
There's no question that onboarding remote employees is more challenging than doing it on site. Here are some tips to maximize new employee engagement, whether on- or off-site.
Get going before the official start date
Starting a new job often comes with uncertainty, which can cause anxiety, and can be exacerbated by the ambiguity of a hybrid or remote environment. It's also a relatively new practice for organizations to implement a fully virtual onboarding process, so the new hire probably hasn't experienced virtual onboarding before. That's why it's important to be empathetic to the new hire scenario and to create a plan that mitigates first-day nerves.
One way of doing this is to establish a relationship and set up various structures before the employee's actual start date. This could include:
Appointing an onboarding liaison (other than the employee's direct manager) and having them proactively reach out to the new employee before the start date so that the new hire has a chance to ask questions.
Finding ways to make new remote employees feel welcome in advance by sending them a note with some company swag.
Setting up technology before the start date and offering each new employee a session with IT to go through the various channels and platforms that are used organization-wide.
Build strong relationships across the organization
In an on-site office environment, spontaneous and organic relationship-building happens at the water cooler, over lunches, at after-work drinks, and at office meetings and events. In a remote setting, you need to be intentional and proactive about setting up both formal and informal one-on-one interactions between the new employee and other people in the company to help build connections by:
Creating community and building in touchpoints with a series of informal and formal experiences.
Building strong relationships by encouraging your new hire and their teammates to set up informal interactions over coffee or lunch.
Creating a broad network across the organization to prevent the individual from operating in silos with the same groups of people.
Having your new hire sit in on group discussions from day one.
Use L&D technology to create engaging remote employee onboarding experiences
When new hires have a good understanding of the organization and the culture they are joining, coupled with insights about the journey ahead, they are more grounded and better-positioned to succeed in their new roles. But new remote employees don't have the same ability to observe and absorb company culture as those in the office. That's why remote employees actually need to spend more time learning about company culture and the informal ways business gets done in the organization.
One of the most effective ways of onboarding remote employees is to build custom, immersive scenario simulations based on real-life situations. Using immersive simulations and other discovery learning activities enables new hires to:
Become productive much more quickly
Internalize the organization's values
Improve their time to integration
Become advocates for and embodiments of the brand
Build a foundation for a successful, long-term career in the organization
Blueline Simulations has worked with talent-driven organizations around the globe to deliver simulation-based onboarding experiences, including an award-winning onboarding implementation at the legendary consulting firm Booz Allen Hamilton. The Booz Allen employee onboarding program we designed took the form of a branded, phased, 12-month series of events designed to help new hires engage with the organization, feel comfortable joining their teams, and internalize the firm's culture and core values.
A week-long interactive learning program named Firmwide Orientation kicked off the experience by immersing new employees in the firm's history, legacy, mission, vision, and values and provided them with opportunities to start building a professional network within the firm. We used a broad range of engaging learning activities to drive networking, skill development, and early career planning. For example, a two-day "year in the life of a consultant" simulation paired two star generals and newly minted MBAs as teammates working together on a realistic consulting project team—with the aim of readying them to engage with clients during week two on the job. Through competition, experiential learning, and teamwork, teams made decisions and experienced consequences that fast-forwarded them through the learning curve of a full year's worth of typical consultant deliverables and associated processes and challenges.
Booz Allen Hamilton's onboarding program delivered significant behavior change, increased affiliation and engagement, reduced attrition, accelerated productivity, increased compliance, reduced risk, and equipped new hires for success at Booz Allen Hamilton. As a result of the program:
The speed of new hire readiness increased by 6%
The company eliminated $1.2 million in annual program costs
Unwanted attrition reduced by a full percentage point
Watch this video to learn more.
Invest in engaging employee onboarding experiences
Onboarding is one of the most important drivers of employee success. Today's organizations need to develop onboarding programs that reflect the times and current technology. At Blueline, we design and produce specialized onboarding programs using a combination of our custom Blueline BlueprintTMlearning visuals and ExperienceBUILDERTM scenario simulations. Our synchronous, team-driven, discovery-learning experiences help new hires get a fast start by building relationships and broadening their networks in remote and hybrid settings.
Get in touch with the Blueline Simulations team to develop an intentional program for onboarding remote employees that forms a solid foundation for employee development, engagement, performance, and tenure.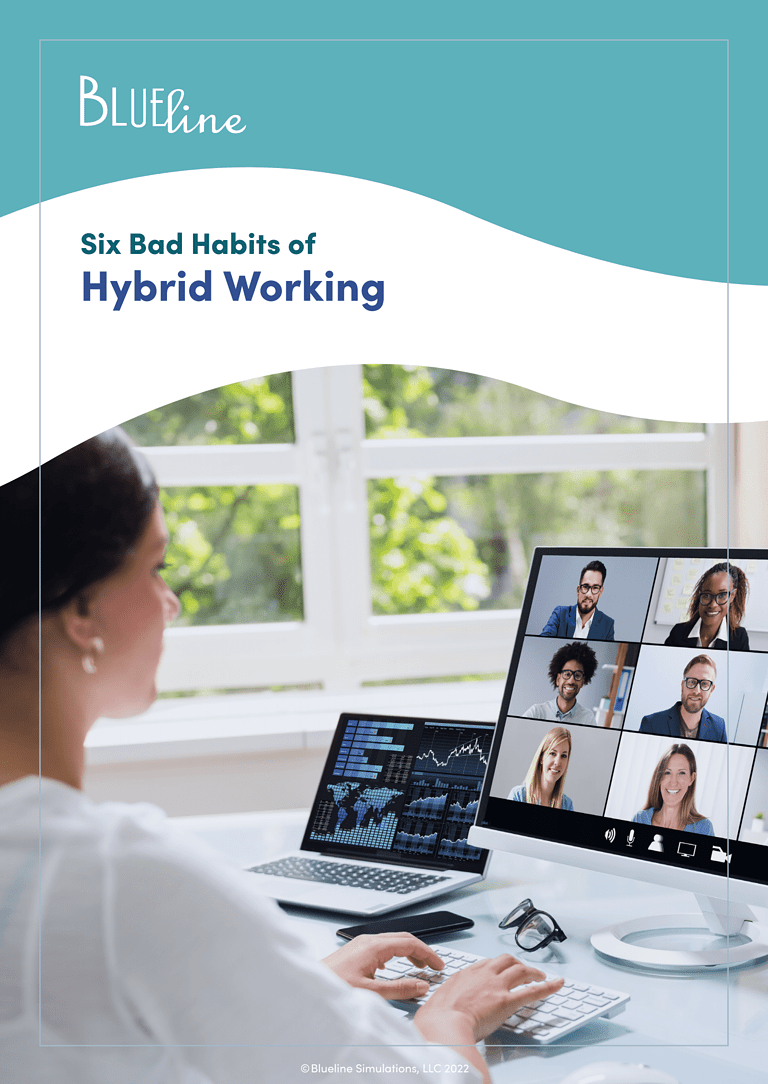 Get Your Free 10-minute eBook: Six Bad Habits of Hybrid Working
Hybrid work is the new normal. Take 10 minutes to read our free eBook to see how many bad habits your organization is guilty of—and how to fix them!