When the pandemic took hold and sent employees home from the office, business leaders realized they couldn't simply push the pause button on learning and development. If anything, L&D had to accelerate efforts to close new skill gaps and address workplace priorities. The term 'hybrid learning' rose to prominence in the L&D world in response to the challenges suddenly posed by a global pandemic. As with so many buzzwords, hybrid is being used in a variety of ways in the corporate world. We're focusing on hybrid learning because it's essential to support the hybrid workforce (i.e. an organization with people spending their working hours both in the office and remotely).
Hybrid learning meaning
Hybrid learning offers a seamless learning experience that plays out both physically and remotely. These experiences are synchronous, which means that in-person and remote learners are working with the same learning materials at the same time. Put simply, hybrid learning is teaching both in-person and remote learners simultaneously. In order for a hybrid learning program to be successful, it must offer an equitable experience to all learners, regardless of their physical location.
What's the difference between hybrid learning and blended learning?
The terms hybrid learning and blended learning are often used interchangeably, but there are key differences worth noting. While hybrid learning focuses on synchronous learning experiences, blended learning often refers to traditional classroom learning augmented with online components to supplement the experience. Learners participating in blended learning use online tools and materials on their own and in their own time (i.e. asynchronously).
What are the advantages of the hybrid learning model?
Beyond the obvious public health benefits of hybrid learning during the Covid-19 pandemic, the hybrid learning model is now an essential way to deliver learning content to geographically dispersed teams. It offers many of the same advantages as working remotely, such as greater accessibility and convenience. The synchronicity of a hybrid learning experience means that all learners receive the same information at the same time, regardless of their physical location. The flexible nature of the hybrid learning model thus allows L&D to deliver a more dynamic, effective, and inclusive learning environment.
How to make hybrid learning work in global organizations
In an Accenture survey on The Future of Work, an overwhelming majority of more than 9000 workers said they felt that a hybrid work model would be optimal going forward. And a 2022 report released by Momentive reported that 69% of respondents said they want to be able to decide where and how they work. Hybrid working is clearly here to stay. The question is how to embrace it, since failing to do so risks damaging employee well-being, productivity, recruitment, and retention.
In this age of digital transformation and innovation, the same old won't do. For example, training a hybrid workforce using a talking-heads PowerPoint presentation delivered via video call leads to low learner engagement and low implementation of learned concepts. Rather, the successful delivery of hybrid learning programs requires the right tools and technologies that enable highly immersive and engaging synchronous learning experiences to teams of learners, regardless of location. And, as we've discussed in a previous blog, custom, team-based learning experiences that deliver relevant and contextual learning content are a reliably effective solution.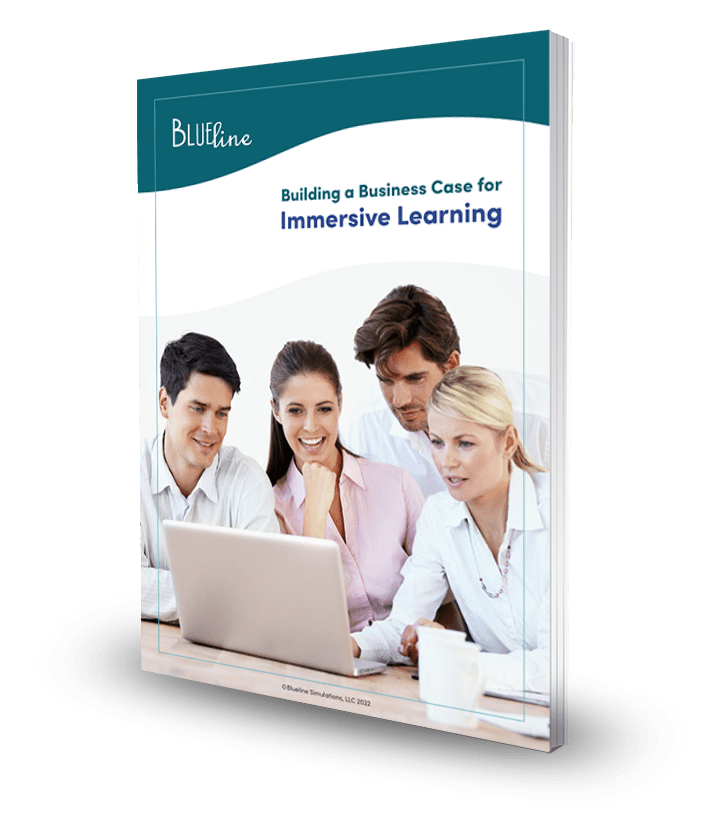 Are you struggling to prove the value of learning to CEOs and executives? Download our free guide!
Build the business case for immersive learning
Demonstrate return on learning investment (ROLI)
Gain buy-in from employees and executives for your learning and development initiatives
It's your job to create your organization's vision, and it's our job to help turn that vision into a blueprint for success.
Suggested further reading: 5 ways to effectively train a hybrid workforce
Hybrid learning examples
In 2020, we were working with a large pharmaceutical company to ensure that everybody in the organization experienced an equitable and empowering career coaching process. Halfway through our engagement, however, the Covid-19 pandemic hit. The project was still a priority, but the added challenge was how to create an authentic, team-based learning experience for a newly remote workforce.
Our entire design was originally intended for an in-person event. Using Blueline's proprietary ExperienceBUILDERTM digital design and delivery platform, we were able to pivot to remote deliveries—first at a small scale, then to a larger scale with over 100 people per session. We needed to make the experience just as compelling virtually as it would be when delivered on-site. An important element of this was adapting the platform's live leaderboard to be accessible in real time to individual teams. We also added a feature that enables the facilitator to tailor the simulation in advance, or even make changes on the fly.
As a result of this project, we were able to further refine ExperienceBUILDER to deliver the same level and quality of training across an entire organization, regardless of employee location. ExperienceBUILDER's immersive and engaging collaborative learning activities get hybrid and remote teams of learners talking and connecting just as effectively as they would in a traditional classroom. Using gamification, scenario-based learning, true-to-life simulations, healthy competition, live leaderboards and teamwork, each immersive learning experience is carefully crafted to maximize participant engagement and drive knowledge retention and skills acquisition.
If you are looking for effective hybrid learning experiences, our Blueline team is well-equipped with the knowledge and understanding to create contextual, high-quality virtual training. Our solutions enable a hybrid workforce to feel more engaged and connected with their teams and with the content itself. Get in touch to learn more.
Could your team benefit from leadership development?
Effective leadership training should be:
Engaging
Thought-provoking
Collaborative
Truly productive
Experience scenario-based learning with these FREE leadership development scenarios with 1st and 2nd level leaders.