Three years after the COVID-19 pandemic, hybrid work is still a hot topic as companies continue to explore different approaches to remote working arrangements and the return to the office. Halfway through 2023, the hybrid work landscape continues to evolve amid various challenges and controversies. Notably, the media's coverage of clashes between management's desire for in-person engagement and employees' need for flexibility at high-profile companies underscores the ongoing debate about the future of work.
Here are some of the latest trends emerging in corporate America.
A rise in hybrid job postings
Many offices have met employees in the middle by adopting hybrid work models. According to LinkedIn, nearly one in nine US job postings in May 2023 offered remote work, down from about one in five in March 2022. But hybrid work is gaining ground, with 13% of US job postings on LinkedIn for hybrid jobs, up from 6.6% in April 2022.
Remote work has negative connotations for C-suite leaders
We're seeing more managers push for an end to the work-from-home trend that took hold at the start of the pandemic. High-profile figures, including the CEOs of Goldman Sachs and JPMorgan Chase, are strongly advocating for in-person work. Telsa's CEO Elon Musk recently went so far as to call the work-from-home trend "morally wrong." In an interview with Footwear News magazine, Martha Stewart said that people could not "possibly get everything done working three days a week in the office and two days remotely." She told the magazine that she is on a "rampage" to get people in the United States back into offices.
Google's recent policy updates indicate plans to crack down on and penalize employees who have not been consistently showing up at the office, emphasizing the importance of in-person collaboration. Google's Chief People Officer, Fiona Cicconi, wrote an email to employees that doubled down on office attendance, reasoning that "there's just no substitute for coming together in person." While Google has yet to share information about the percentage of its employees who are sticking to its current three-day office schedule, the fact the company is putting its foot down implies that only some employees have been playing by the rules. 
Employees' resistance to returning
While some leaders and companies are eager to bring employees back to the office, there has been significant resistance from workers. Now that they've tasted the flexibility and convenience of working from home, many employees don't want to get back to the old normal of full weeks in the office, especially since they believe they've proven their ability to competently perform their jobs remotely. Reddit threads and news stories have captured the complaints and concerns expressed by employees about being required to return to the office. Common factors cited include:
The time and monetary costs of long commutes
The costs of out-of-home coffee, lunch, clothing, and beauty supplies
Expensive childcare (leading some parents to consider dropping out of the workforce if flexible schedules and remote work options are no longer available)
Challenges in the office environment, such as inclusion and emotional well-being
The prevalence of remote meetings held via Zoom or Teams, even when they're in the office
Preparing for a battle of wills
The gap between what employees and leaders want remains wide, with bosses expecting in-person collaboration and workers loath to forgo flexibility. This resistance has created a disconnect between employee desires for flexibility and employer expectations for in-person collaboration. For example, after Farmers Group told employees last year that most of them would be remote workers, many made significant lifestyle changes in response to the policy. Some sold their cars; others expanded home offices or moved their families to new cities. The company's new CEO recently reversed those remote work policies. Employees staged a revolt, threatening to quit or unionize, and logged over 2,000 complaints about the about-face decision on the company's internal social media platform.
You may also be interested in: The common challenges of managing hybrid teams
Embracing remote work and reducing office space
The shift to remote work has prompted many companies to reconsider their office space requirements. One such example is health and wellness organization Highmark Health, which recently announced a change to its work-from-anywhere policy. As a result, the company will be relocating from their current building to a more compact space. Similarly, M&T Bank plans to downsize its office space by 12% in response to a hybrid workforce, and Google indefinitely paused construction on its massive San Jose, CA, campus.
Varying expectations of different generations and seniority levels
In the ever-evolving landscape of hybrid work, it is crucial for organizations to recognize and understand the varying expectations of different generations and seniority levels within their workforce.
Baby Boomers and Gen X: These workers are known for valuing stability and structure in the workplace and may prefer traditional office settings with face-to-face interactions. When the pandemic forced remote work, many of them adapted to the new work modes. Creating a balance between in-person collaboration and remote work options will be essential for their successful transition.
Millennials and Gen Z: As the generations that have largely grown up in a digital age where technology enables seamless connectivity, they're known for prioritizing work-life balance and valuing the flexibility that remote work offers. For these generations, hybrid work arrangements can be highly attractive, allowing them to customize their schedules and allocate time for personal pursuits. In fact, 61% of Gen Z and 57% of millennials say they'd look for new jobs if they lost their workplace flexibility—double the number of baby boomers (29%) who said the same.
Senior executives and leadership roles: Regardless of age, these leaders play a crucial role in setting the tone for hybrid work environments. By demonstrating their willingness to embrace flexibility and adapt to changing work modes, they can inspire their teams and promote a culture of trust and collaboration.
Strategies for creating an effective hybrid work environment
Although companies, leaders, and employees have varying stances on hybrid work, there are some core strategies that organizations can apply to help strike a balance between the benefits of in-person collaboration and the advantages of remote work.
Set clear expectations: Companies should provide clear guidelines that clarify when physical presence is required and when remote work is permissible.
Implement effective communication: Regular check-ins, virtual team meetings, and project management tools can facilitate effective communication in a hybrid work setting.
Provide necessary resources and technology: Ensure that employees can effectively carry out their tasks regardless of their location.
Provide training and development opportunities: For example, as reported in Blueline's State of Coaching in the Workplace in 2023, Lockheed Martin has committed significant resources to developing leaders that are adept at managing a hybrid workforce. All leaders participate in a comprehensive design that combines webinars, Q and A sessions, and micro-learnings over a 30-day period. Other organizations have trained their leaders in the specific skills required to manage a hybrid team.
Prioritize employee well-being and mental health: Foster a supportive culture that promotes work-life balance and offers resources for stress management and mental health support.
Foster connection: Encourage team-building activities, both online and in-person, to create a sense of camaraderie and strengthen relationships among colleagues.
Implement virtual collaboration tools: Facilitate seamless communication and collaboration across remote and in-office teams.
Make learning and growth core to the employee experience: Create a culture in which people are equipped to continuously grow their skills, build their careers, and find purpose—all while helping the organization thrive.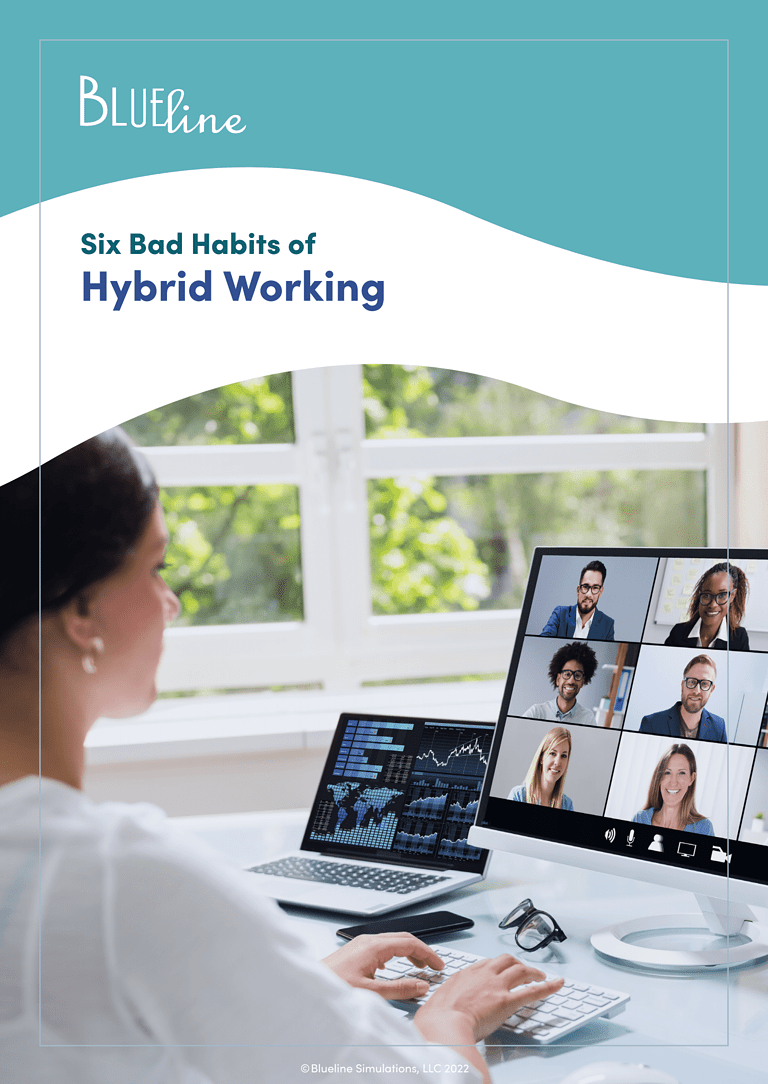 Get Your Free 10-minute eBook: Six Bad Habits of Hybrid Working
Hybrid work is the new normal. Take 10 minutes to read our free eBook to see how many bad habits your organization is guilty of—and how to fix them! 
The evolution of hybrid work requires continuous adaptation
The world of hybrid work continues to evolve, and the approaches companies are taking vary widely. While some organizations are reducing office space and embracing remote work, others are pushing for a full return to the office. As we delve into the complexities of hybrid work in 2023, it becomes evident that new scenarios will continue to emerge, and successful hybrid policies will need to evolve over time. More so than ever, leaders need to be equipped to navigate ambiguity and consider the diverse needs and perspectives of their workforce to create an environment that fosters both productivity and employee well-being. Partner with Blueline to help your people develop the skills needed in today's dynamic world of work. Schedule a free consultation.