At the heart of every business transformation initiative is the need to change employee behaviors. Those may be as simple as the way people use a piece of software or equipment, but more frequently, those behaviors relate to complex decision-making and new interpersonal skills. Hands down, there is no better way to deliver long-term behavior change at scale than immersive learning experiences (like simulations). It's what we've been doing for over two decades and what gets us up every morning inspired to make a difference.
But every now and then, we encounter objections from prospects and even our most loyal customers. So, what do we do? We embrace the feedback and use it to further differentiate ourselves from the competition. Our passion for identifying opportunities to be better in each and every project is an integral part of who we are.
If any of the objections described below resonate with you, tell us how you feel about our solutions. And if you have (or have had) any other reservations about working with us, please share those too! We appreciate your feedback and opportunities to bring more value to you.
Here are 5 past objections to partnering with Blueline, along with the efforts we've made to obliterate them.
#1 Our training organization doesn't have enough professional facilitators to deliver your simulations at scale.
Fair enough. We know that many of our clients no longer maintain cadres of professional facilitators, and the SMEs that are often asked to step in don't have much time to prepare.
We refuse to compromise on the engagement level of our simulations, so we've made the facilitation of our sims easy for part-time facilitators and SMEs in three key ways:
Our proprietary scenario simulation design and delivery platform, ExperienceBUILDERTM, offers a suite of industry-leading facilitation tools, including progress indicators, live pause, remote reset, rewind, leaderboard customization, and much more.
Our team-based, discovery learning designs are learner-driven, so the facilitator's role is as simple as introducing the sim, keeping teams on track, and leading a debrief or two.
The Blueline team is always standing by to support your simulation deliveries. A Blueline client recently delivered one of our sims to a group of more than 750 learners simultaneously and asked our team to be on hand to help ensure it came off without a hitch (and it did!).
Another option that avoids facilitation altogether is to deploy our scenario-based simulations asynchronously. The bottom line is that the lack of facilitators isn't a barrier to engaging learning experiences that change behavior.
#2 Custom learning takes too long to produce.
Bespoke experiences that put learning in context maximize engagement and drive high levels of application and long-term retention. But bespoke designs, especially simulations, take time to develop, and senior business leaders demand change yesterday.
Our systems and processes are built with speed in mind. We're using artificial intelligence (AI) to develop novel artwork, conduct background research, capture industry insights, and generate initial scenario concepts.
#3 Virtual learning isn't engaging enough to drive behavior change.
While virtual training deployments can reduce cost and increase flexibility and scale, many believe they are less effective than in-person training. As a general rule, they aren't wrong.
Blueline's virtual deployments of our scenario simulations maximize participant engagement by:
#4 My international organization is large and dispersed, and English is a second language for many.
Our proprietary scenario simulation design and delivery platform makes it easy to do on-site, virtual, and hybrid deployments of our simulations in multiple languages simultaneously. You read that right: multiple languages simultaneously! What's the point of creating a powerful learning experience if you are going to hamstring your global audience by asking them to learn in a second language? To date, our work has been translated into 17 different languages and counting.
#5 You have no proof that the initiative will succeed
Why invest precious resources in creating and delivering a learning experience if it doesn't actually change behavior and move the needle on business outcomes?
We don't like wasted effort any more than anyone else. That's why the Blueline approach is simple and efficient:
Understand the goals of your transformation initiative
Identify the behavior changes needed
Develop simulation scenarios that put critical behaviors in the context of workflows
Measure their impact and refine
Learn more about the factors we focus on to deliver return on learning investment (ROLI).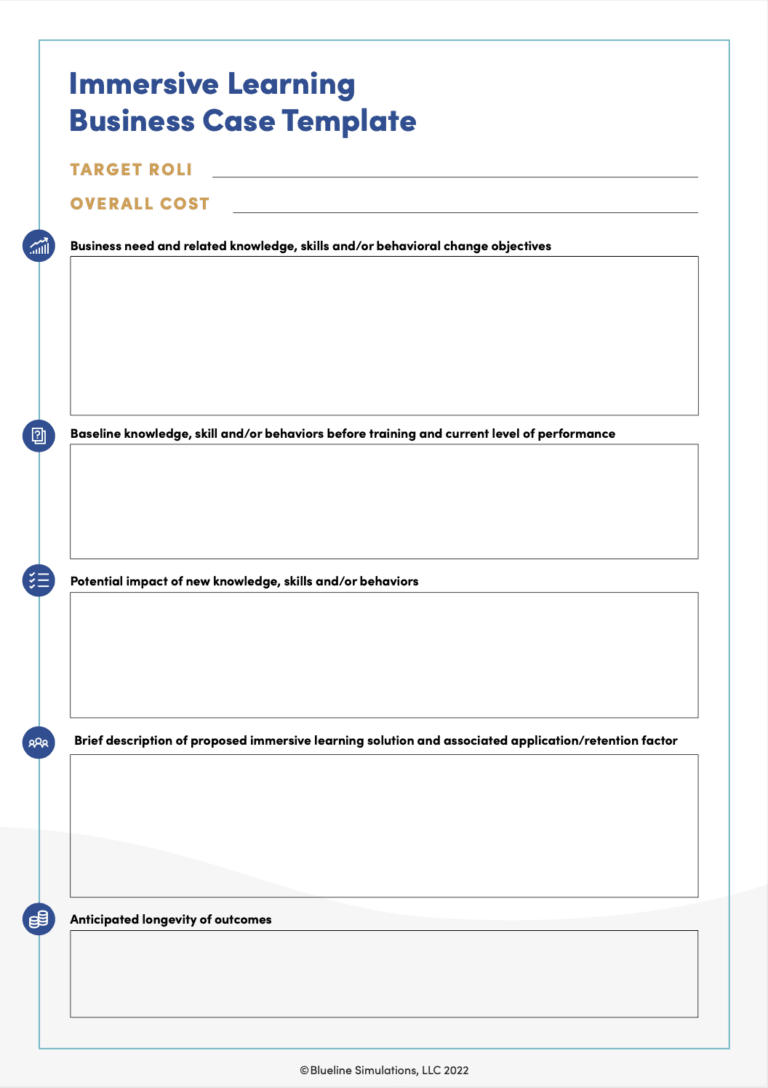 Establishing ROI for Learning Initiatives
Download our free template to help you develop your business case for immersive learning and gain buy-in from employees and executives for your learning and development initiatives.
The Blueline difference
We've overcome facilitation, deployment, engagement, and measurement challenges. But there's another reason why many of the world's largest companies and best-known brands choose Blueline. By focusing on our clients' transformation goals, identifying needed behavior changes, and deploying scenario-based simulations that put learning in context, we're able to facilitate organizational transformations that deliver business results.
Bring us your questions, and don't be shy if you have hesitations. We'd love the opportunity to engage further. Let's talk!