We've discussed the link between training and employee engagement, but there's another type of learner engagement that's a crucial success factor for learning initiatives. For a learning program to change behavior and drive business results, the learners have to be engaged in what they're learning. Training that fails to engage learners is like attempting to drive a car without gas—it just won't go anywhere. That said, it's often easier to build unengaging training, particularly when the training will be delivered online. Your learners deserve better, and they're quietly begging you to try something new. By understanding the real causes of a problem intended to be addressed by training and leveraging the latest tech, you can deliver great benefits to the business.
Get to the root of the problem
In order to see any results, the learning program needs to get to the root of the problem. Without diving into the organization's issues, the training program will be deemed a superficial effort by the learners who know that there are unaddressed organizational problems impeding their success. Too often companies will design their training to address what they think is the issue, when in reality it stems from elsewhere. For example, a company that is receiving a substantial amount of customer service complaints decides to work on a customer service training program to help improve customer service ratings. However, the root cause of poor customer service ratings may be a faulty product that is frustrating customers. Without getting to the root cause of the customer service complaints, the issue can't be solved.
A root-cause analysis can help an organization understand the actual problem and ensure it's one that can be addressed by a behavior change. In our example above, there probably isn't a training need at all for those customer service representatives. Our Voice of the Business needs assessment harnesses insights from inside the business to help identify the real problem and whether it can be addressed by training.
By combining research, free-form interviews, focus groups, and questionnaires, the team can ensure that the root problem is identified. If a change in employee behavior is the answer, the root-cause analysis will equip the team to develop a training program designed to reach the problem at its core. Incorporating employees into the needs assessment helps us to identify critical issues and ensure the learning program will be engaging for the employees themselves—simply because the targeted learners will be able to see that we've taken their concerns into account when designing the training. Taking this approach helps to show empathy towards the learners; creating an empathetic learning design is an important piece of learner engagement.
Use technology to create an engaging online learning experience
Once you've gotten to the root of the problem, it's time to start having some fun. It's a well-established fact that when learners are engaged while going through training, they're more likely to retain the information and change their behavior back on the job. Traditionally, high-stakes learning initiatives with complex requirements for outcomes (we're looking at you, leadership development) have been delivered in a classroom setting. The parallel forces of advances in tech and the rapid rise of remote work have helped to make engaging online learning accessible for a much wider audience.
We see 4 key factors that determine whether an online learning experience will be engaging:
Stable, easy-to-use technology capable of delivering the program to team members in multiple locations
Gamified or competitive elements that motivate performance
Discovery-based learning (draw them in and let them figure it out, as opposed to delivering content and expecting them to memorize it)
Empathetic design that demonstrates a genuine understanding of the real-life factors impacting performance on the job
In fact, these forces are exactly why we developed our ExperienceBUILDER™ platform, which delivers immersive, simulation-based training that's equally engaging for co-located and remote teams. ExperienceBUILDER simulations present real-life business scenarios that have no clear-cut answer. Learners are faced with hard choices that drive discussion, spark debate, and open the door to developing new skills. Robust feedback ensures participants can identify the desired best practices. Every learner in an ExperienceBUILDER simulation is engaged by team-based problem solving and the competitive drive of a live leaderboard. Furthermore, these simulations drive accountability and provide team-building opportunities, which in turn serve to improve decision-making skills in the workplace.
The business will benefit when learners are engaged in training
Numerous studies have shown that engaged learners are significantly more likely to change behavior and drive business results (provided the training is targeting the root cause of a business problem). In fact, we assert that the converse is also true: when a training program fails to engage learners, they're highly unlikely to change behavior and drive business results (even if the training did target the root problem). 
Bringing people together in a classroom setting continues to be a challenge; technology and instructional design can work together to offer a solution that leaves no excuse for unengaging training. Organizations that haven't solved the learner engagement problem in online training are rapidly losing ground. If you're struggling in this area, reach out to us. You may be surprised to learn that delivering engaging training to a geographically dispersed audience is much simpler and less resource-intensive than it once was.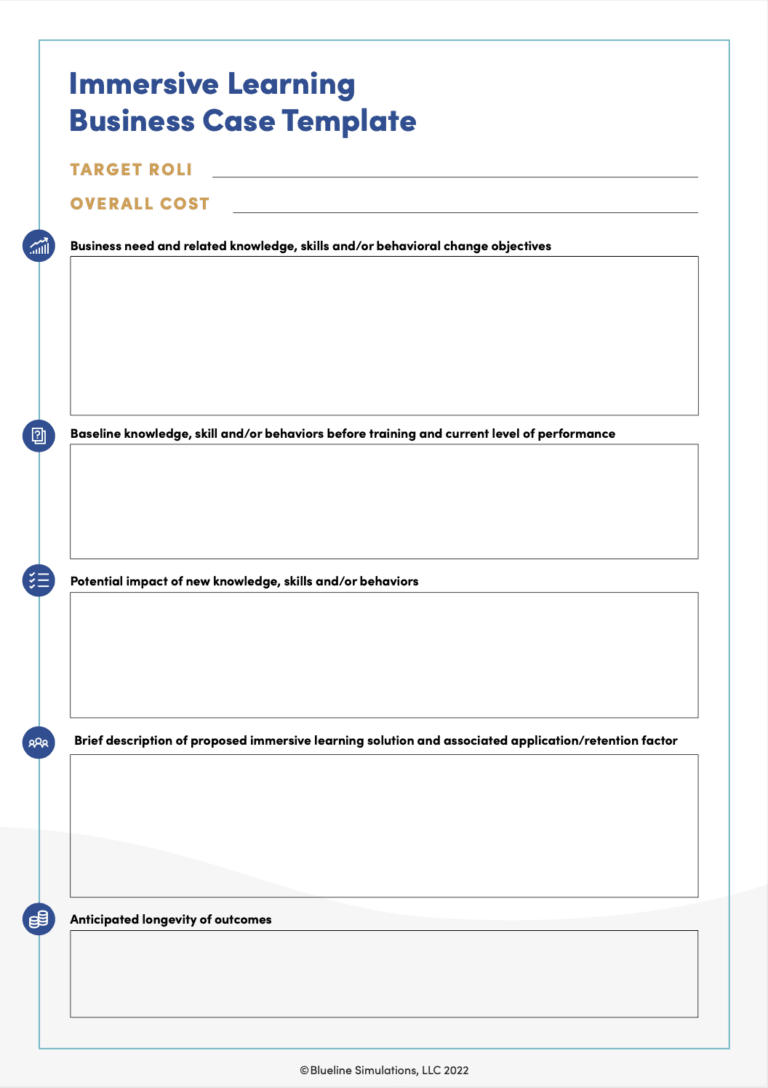 Establishing ROI for Learning Initiatives
Download our free template to help you develop your business case for immersive learning and gain buy-in from employees and executives for your learning and development initiatives.