I'm just going to go ahead and say it. In my years of facilitating learning experiences, one profound truth has crystallized: nothing quite matches the magic of a room filled with eager minds as a team comes together. Call me old school, but I'd be lying if I said I prefer connecting virtually. With all the tech, there's still no match for getting everybody in the same room for an experience. I think I speak for most of us when I say that I'm much better at reading body language in the room than on the screen. There are so many visual cues missed on video!
I could go on, but we know that hybrid work is here to stay, and, for the most part, that's a good thing. It also means that we need new approaches to collaboration, particularly for high-stakes learning experiences when it's just not possible to bring everyone together.
The challenges of collaboration in hybrid learning
Hybrid learning presents a unique set of obstacles in the context of workforce training. Wrangling schedules and coordinating between remote and in-person teams challenges even the most adept organizations. And what about the organic connection fostered in the good ol' days of water cooler chats? It turns out Steve Jobs was onto something when he designed Apple's campus to encourage these unstructured exchanges. How do we bottle that magic and bring it to the hybrid world?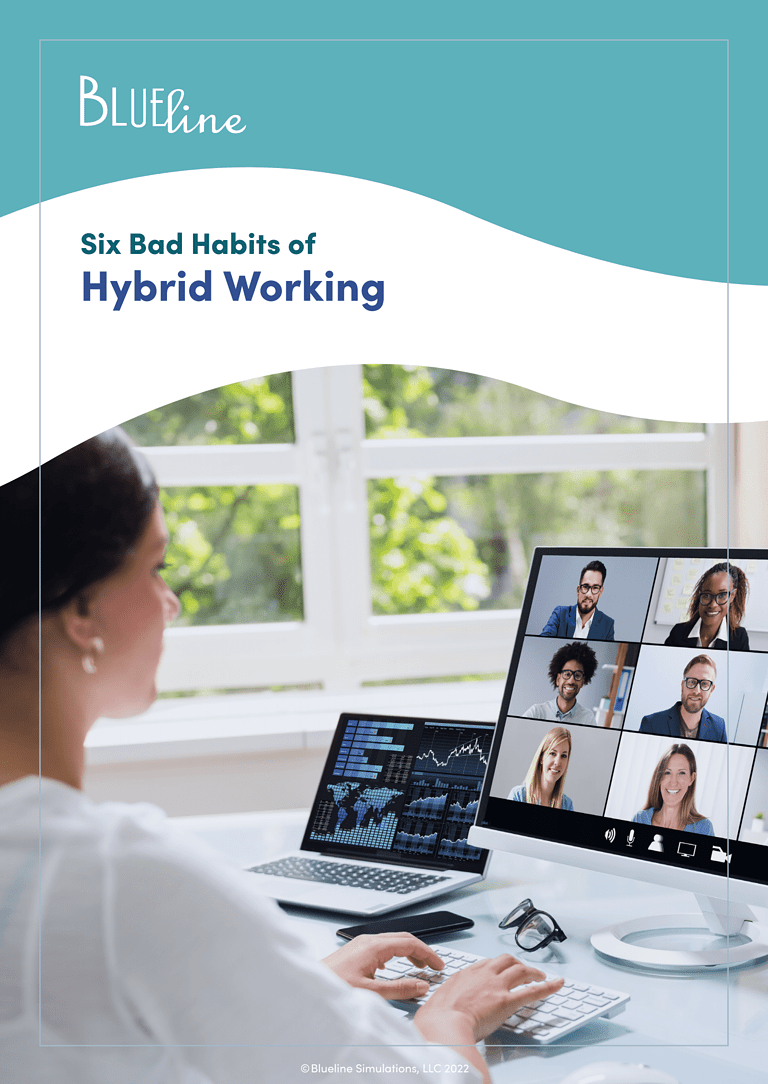 Get Your Free 10-minute eBook: Six Bad Habits of Hybrid Working
Hybrid work is the new normal. Take 10 minutes to read our free eBook to see how many bad habits your organization is guilty of—and how to fix them! 
Cracking the code of hybrid collaboration
Here are some tactics we've used with our clients to redefine the way we collaborate in this brave new learning landscape:
Customizing the experience based on each client's unique needs
Using technology that ensures equal fidelity for on-site and off-site learners regardless of location, device, or language
Ensuring the design maximizes return on learning investment (ROLI)
Finding ways to foster genuine connection among participants
Equipping leaders for success
For many leaders, this whole hybrid thing is just over three years old, and there's still a lot of learning and adapting that needs to happen. Scenario-based training can help equip managers with the confidence and skills to lead in the hybrid working world.
Here's a real-world example from our portfolio. We helped leaders at a Fortune 150 pharmaceutical company address common challenges, lead hybrid teams effectively, and avoid proximity bias in the new hybrid working environment. After identifying the challenges they were most likely to face, we produced two scenario-based simulations comprising twelve of the most likely dilemmas leaders would face. Since the roll-out of the learning experience, thousands of participants have given it an average rating of 4.5 out of a potential 5.
You may also be interested in: 4 tips for onboarding cohorts in the hybrid workplace
Picking the right tech tools
Technology is a cornerstone of hybrid learning, and sound learning design makes all the difference when engaging hybrid learners. We design and develop experiences that deliver business impact and behavior change in hybrid teams using technology that:
Is intuitive and easy to use for learners and facilitators
Leverages gamification and high-impact graphics
Scales to serve large populations of diverse learners
The right tech solution enabled us to deliver a flawless synchronous learning experience for over 800 people recently. The learning event was part of a national meeting and an overarching business transformation initiative at a Fortune 150 company. The roughly 600 on-site and 200 virtual learners uncovered best practices and common mistakes in context, shared stories, debated outcomes, navigated ambiguity, failed forward, and constructed solutions to business problems—while engaging in healthy competition. Everyone was fully engaged for the entire session, so much so that senior leaders celebrated the simulation as the highlight of the national meeting.
Simulating the power of presence
Blueline's scenario simulations act as a conduit for crafting immersive, synchronous learning experiences tailored to the unique needs of the hybrid workforce. Our team-based learning model is designed to keep hybrid and remote teams of learners communicating and collaborating as they build new skills for the modern world of work. Yes, the power of presence has shifted a bit, but the magic is still very much alive—so let's make the most of it! Contact us for a demo to see how we're helping some of the world's leading companies adapt and thrive in today's dynamic environment.