Quickly engage multiple learning styles
Ready To Expand the Reach of Your Training?
Unlike traditional learning maps, which tend to be self-contained, closed learning exercises, Blueline Blueprints™ often serve as the locus of activity and highly involving context for a broader agenda of coordinated learning interventions. 
You've Never Seen Anything Like Blueline's Signature Blueprint Learning Visuals
The versatility of our Blueprints makes it possible to create a single experience that is responsive to the ongoing needs of the most diverse employee populations. They serve as a launch point for a range of individual activities and team challenges, such as:
What Are Learning Visuals?
Rich in visual metaphors and data, Blueline's Blueprint learning visuals are a catalyst for in-depth discussion and analysis.
Imagine a room full of teams of four or five learners each. At the center of every team is a table-sized Blueline Blueprint learning visual—a dramatic graphic that quickly engages the table team's multiple learning styles by inviting learners to explore relevant visual metaphors, dig into data, and trade personal experiences to challenge each other's assumptions. And, perhaps most important, they engage in rich dialogue that generates deep awareness of your strategic messages.
Blueline's Blueprints provide conceptual consistency and increase retention, all without relying on professional facilitators.
Using a see-one, do-one model for cascading delivery, these rich experiences ensure that a consistent message is delivered throughout your organization. And with little personal preparation, your leaders feel like rock stars after delivering what is often cited by employees as "the most engaging developmental experience" of their careers.
Process for Creating Blueline's Signature Blueprint Learning Visuals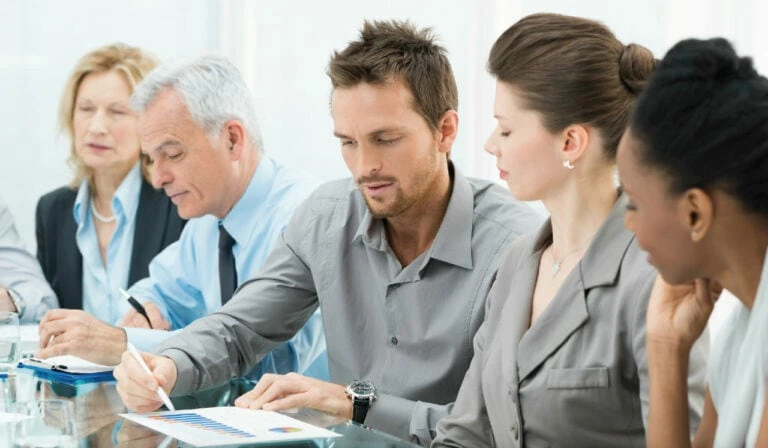 Step 1: Data-Gathering Session
After reviewing as much background data as possible, the Blueline team meets with the client team to collect information and insights that will enable us to create a visual that supports your learning and/or communication goals. We also collect branding style sheets, logos and current imagery that should inform the final product. (1-2 weeks)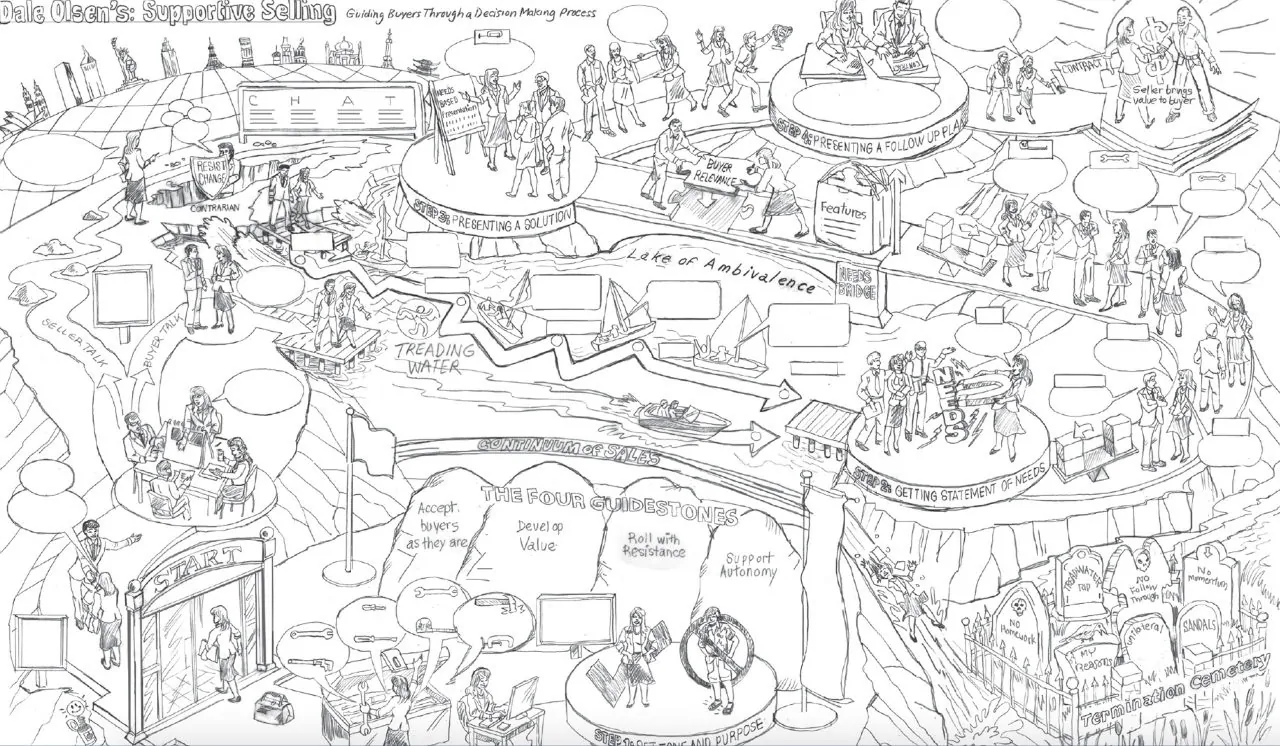 Step 2: Concept Drawing
One of Blueline's Master Artists generates an initial 8 1/2" X 11" sketch to confirm/test our understanding of the essential elements and basic storyline and to introduce a metaphor and potential layout. (1-2 weeks)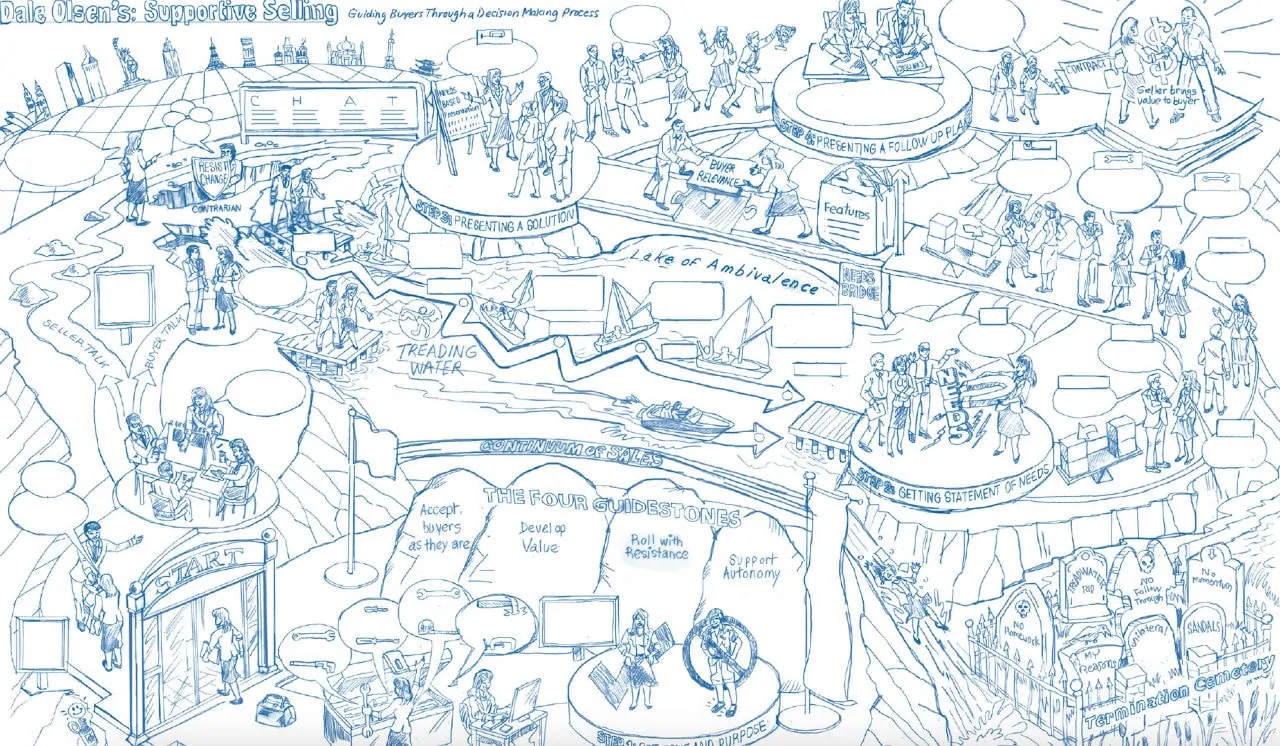 Step 3: Blueline Drawing
Once the sketch has been approved, our Master Artist will create a detailed 36" X 50" Blueline drawing to define and visualize the story. This version also includes a preliminary placeholder copy. There is typically lots of back and forth with the client team during this step to ensure alignment on the desired story and supporting metaphor(s). Sometimes it helps to add color to a section of this version to help the client to imagine a final product. (2-3 weeks)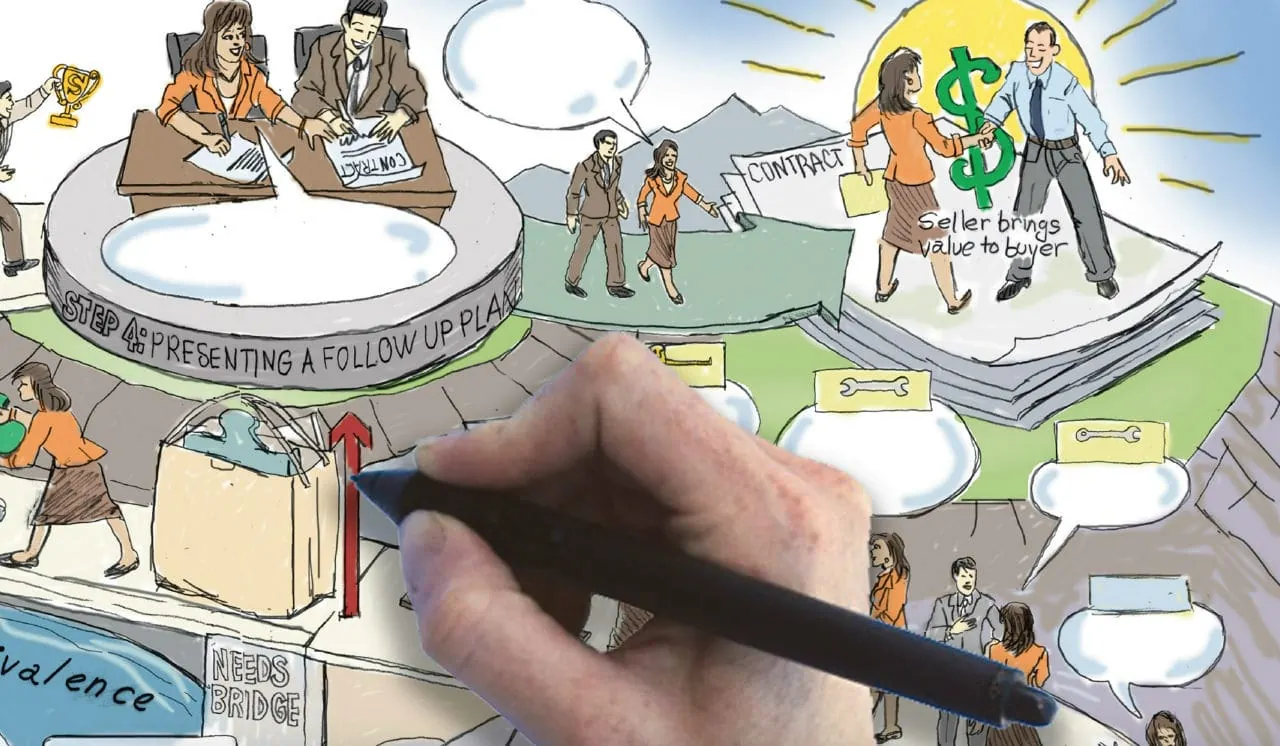 Step 4: Color Drawing
Once the Blueline drawing has been approved and finalized, our team of artists scans the drawing into one of our very powerful Mac Desktops and converts it into a polished Adobe Illustrator file with multiple layers including a fine line drawing, text, and color overlays. This version is thoroughly tested with the client audience and gets a full editorial review. (3-4 weeks)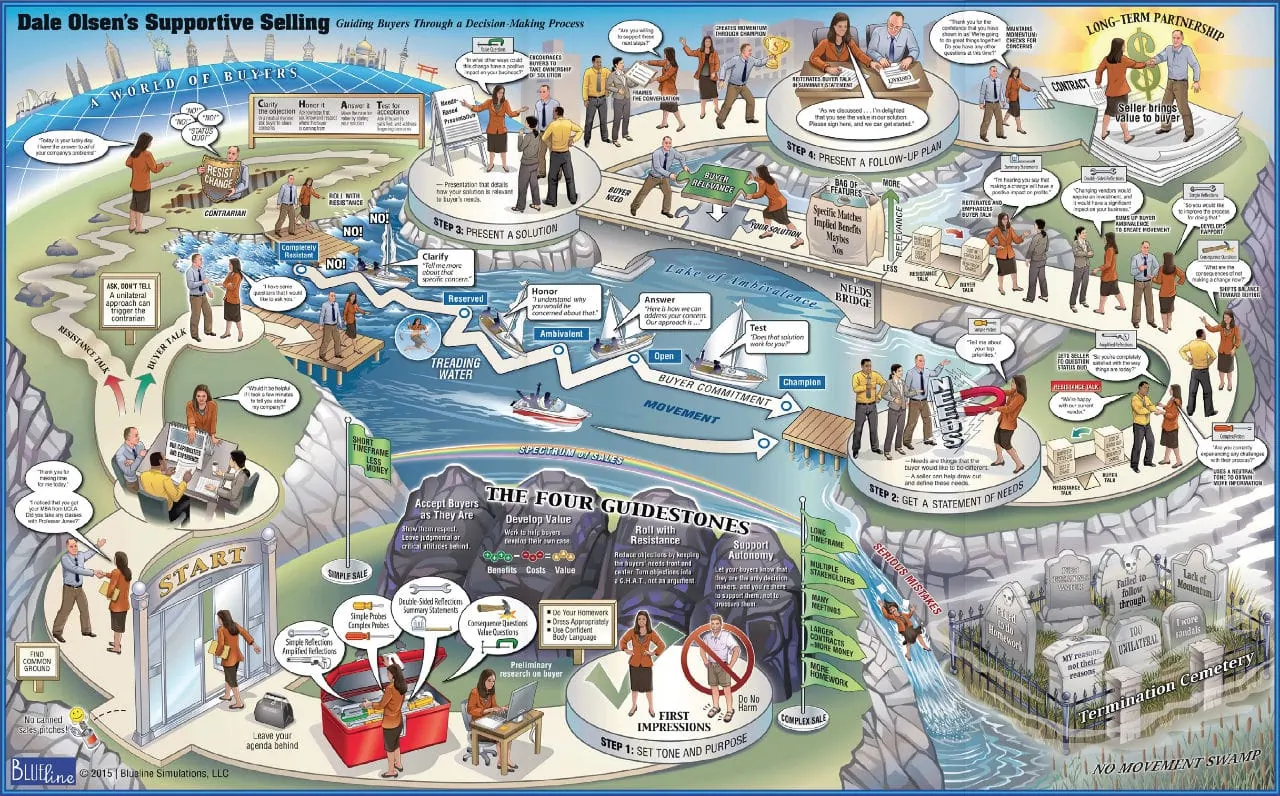 Step 5: Final Rendering
The Blueline team generates a final, print-ready rendering that incorporates feedback from the client tests and editorial. (1-2 weeks)
It's Simple To Get Started on Your Transformation Journey
Here's how we work with you:
Schedule a free consultation with one of our Principals.
Meet your dedicated Blueline team, who will quickly get immersed in your organization's context, needs, and goals.
Partner with us to build alignment among your internal stakeholders for a learning solution targeted to your objectives.
Experience the power of a Blueline tailored or custom-built training initiative, and watch your vision become a reality.
Want To Learn More About Corporate Learning and Development?
Check out our blog, where we're sharing new ideas, best practices, and cutting-edge research for L&D leaders.