Need to make an ROI assessment on whether a classroom program or eLearning solution is right for you? Now there is an app for that.
Brainvisa recently released a free iPhone app that helps you calculate the development, implementation and maintenance costs of a classroom program, and compares those costs to developing an eLearning solution. Cost-Benefit Analysis (CBA) Tool for Learning Investments asks you a series of questions about the program to be develop, such as: "What's the approximate length of this course?" — "How often it will need to be updated?" and, "How many times it will be offered?"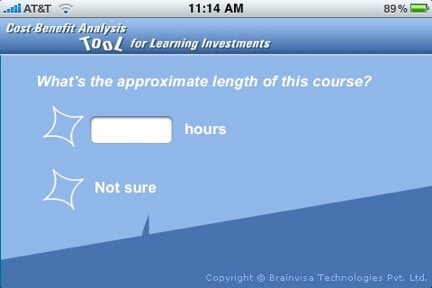 Next, the app steps you through similar considerations for implementation such as, cost of space, cost of facilitation, hourly rate of attendees, etc. Using all this information, it then calculates your total cost. Next, it asks if you would like to compare that cost to the cost of developing an eLearning solution.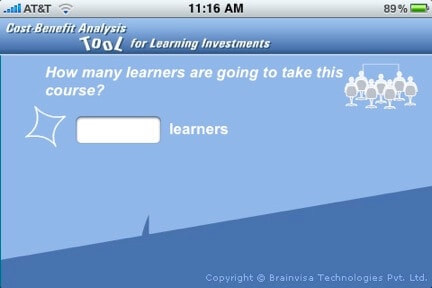 CAB doesn't ask any of the same questions about the eLearning development or implementation, so Brainvisa must be using their development costs for those calculations.
I did three test runs of CAB to check it out. The results of two of the test runs indicated that eLearning was a more cost effective approach. The third test run, with less than 50 people to be trained, said a classroom solution was a more cost effective approach.
Now there is nothing here that you couldn't do with a simple spreadsheet – or even a pencil and piece of paper! But CAB is simple, the voice over that asks the questions is done with a sense of humor and the math is done for you. More importantly, it is an early demonstration that not only is mobile learning going to be a big trend in 2010, but I think we will also see more mobile tools to support the development, implementation and maintenance of learning solutions.
It looks to be a very interesting year!