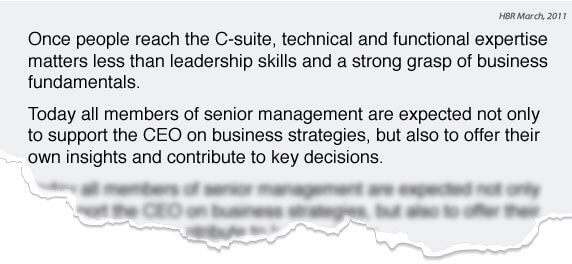 Closing the business fundamentals gap in your organization requires developing new insights and skills that can only come from experience. How will you ensure that your next generation of leaders will get the experience they need to respond effectively to the myriad of strategic challenges that your executives face every day?
Introducing Executive Challenge™ – the latest in a series of leadership simulations designed to give your high potential leaders the insight and skills needed to deal with nearly every strategic challenge imaginable – from talent management to compliance and from ethics to defining and executing a global vision.
Sign up for one of our 50-minute public webinars at 1:30 pm EST on October 22, 2013 or October 31, 2013. Register today to reserve your seat!
During the info session and demonstration, you'll get an exclusive sneak peek of Executive Challenge™ and get to see first-hand how this revolutionary new program will change the way you groom your next generation of executives!
If you are unable to participate in one of our upcoming public webinars, contact us today to schedule a private demonstration for your company.