Finding the right employee to match the needs of an organization is a huge investment. Businesses spend a significant amount of money on recruiting, testing and negotiating with potential candidates to fill open positions. So after spending so much time, effort and money finding the right person, how can they ensure that the new hire's experience is as beneficial as it can be for both the employee and the employer? Onboarding plays a critical role in the answer to this question.
The argument has been made that each new hire brings their own motivations, work ethic and eagerness to contribute with them when they join an organization. And they do. But the impact that a powerful onboarding experience, that welcomes a new hire into the fold and says "this place really cares about you and the contributions that you will making and we hope that our relationship together will be long and productive" can be game changing. When working with our clients on these types of robust onboarding efforts, we often hear comments from participants about how impressed they are that a company would invest so much time on them as a new hire to learn about the company, and how helpful the experience was as a springboard into the job.
Learning Blueprints' (visuals) play a significant role in an engaging onboarding experience and provide an avenue for a fun way to transfer knowledge, and for new hires to explore an organization. The story told by these visuals helps the new hire see how they fit into the strategic direction of the organization, and can generate excitement about how they can contribute. Blueline Blueprints' help to bridge the gap between being an outsider and belonging, They also confirm that the decision to join the company was the right choice! A new hire can connect immediately to the organization and be proud of what they joined. And, informed new hires can be more productive in their first 30, 60, 90 days of hire than uninformed new hires.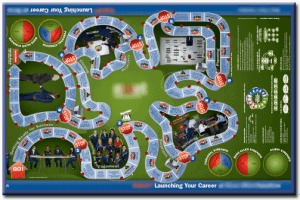 If your company's onboarding philosophy is "let them learn by observing or asking others' the information being conveyed may not be what senior leadership desires. The onboarding process can be formalized but fun. Learning Blueprints' and the activities around them, involve a lot of learning and thinking, and the discussion and stories allow participants to learn from each other – not just from the talking head at the front of the room. Incorporating different methodologies also shows the creativity of the organization – even if the organization is technical in nature.
Learning Blueprints' increase retention, bring fun to the learning process, allow stories to be told that can include past, present and future, and help the new hire see where they fit into it all. What better way to welcome the new hire!