At Blueline we are very familiar with the power of a strong visual image. Our highly successful Learning Blueprints are built on this principle. But what if you could combine the engagement created by a picture with the clarity of the spoken word? It turns out you can.
One of our clients is rolling out a new strategic account management framework to transform their sales approach.  The supporting curriculum is made up of three separate workshops – each dedicated to a unique set of competencies. Frustrated with the poor compliance they had been getting with pre-reading assignments, they needed a creative way to introduce critical elements of the program's new framework in advance of each of three corresponding workshops.
This gave us the perfect opportunity to showcase the power of Blueline's telestration technology. A telestration is a short video using high-speed hand-drawn images and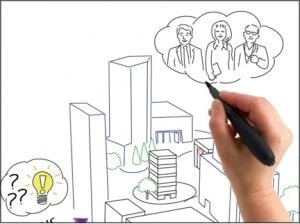 animations.  When combined with a clear message from the narrator, this approach captures and holds the viewer's attention.  Generally, three to four minutes in length, telestrations are very useful in simplifying messages, because both the video and audio focus exactly on the ideas being communicated.  The audience quickly understands – and this combination makes a significant amount of information memorable – in one viewing.
For this particular client, we developed an introductory telestration that conveyed the need for the new sales framework; provided an overview to the three phases; and explained how the new approach would benefit customers, the business, and sales representatives. We then developed three additional telestrations, one for each of the three phases of the framework – which provided an introduction to the associated competencies. As an alternative to pre-work, sales representatives were asked to watch a video before attending the corresponding application workshop.
An overwhelming percentage of participants watched the video prior to their workshop. Several sales managers asked for copies of the telestrations so they could replay them at upcoming sales meetings – enabling them to discuss different aspects of the framework with their teams. One manager even commented, "I've seen a lot of training videos, but this is 10 times better than anything else. I could take this telestration and train from it alone."
Do you need to communicate new ideas to your organization in a brief, engaging, and meaningful way? Contact us at Blueline Simulations and let us show you how the power of telestrations can be put to work for you.
Implementation Showcase
See how we've delivered immersive learning experiences that facilitate business transformation for some of the world's largest companies and best-known brands.