At first blush, it make sense that major corporations would pay handsome fees to consulting firms whose unique value proposition stems from implementing "proven" systems and processes that have previously been tested in dozens of other clients. However, post implementation, it often becomes apparent that the organization's response to the "proven" systems and processes is less than favorable.
For years, Blueline has been practicing a different approach, one that we refer to as "listening to the voice of the business." Our belief, validated through dozens of client projects, is that the answers to solving your organization's greatest challenges lay dormant in the minds of your people – and all you have to do is ask.
Mining insights from within your organization has some added benefits. For starters, the resulting systems and processes are uniquely yours. That means that you are extending competitive advantage, rather than moving to parity with your competitors who are all implementing "proven" solutions. And, by engaging your people in the process, you have empowered them and begun the all important process of securing their buy-in.
Although Blueline's "Voice of the Business" process always follows these same five steps, it never fails to delight our clients.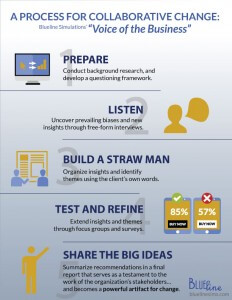 If you would like to know more, by all means send us an email or give us a call. If you still aren't convinced, take a few minutes to explore these blogs that my team and I have written over the last year or so. Each of these implementations was profoundly impacted by Blueline's "Voice of the Business."