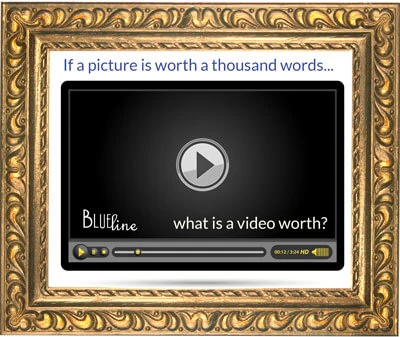 At Blueline Simulations we know the power of strong visual images – in fact, our highly successful Learning Blueprints are built on compelling visuals. Several months ago, we discussed how telestrations focus exactly on the ideas being communicated, helping the audience to clearly understand the key messages – in one viewing.
We have developed a straightforward process to create these successful productions with our clients. Here's how we worked with a client who contacted us to help them communicate changes to a longstanding internal process.
At our initial meeting, we determined that their challenge was to communicate a clear, accessible message about an upcoming change to everyone across the entire organization. The delivery mode had to be repeatable and consistent to all – whether they were directly involved with the change or not. We helped refine the message's three primary elements: 1) defining the change; 2) conveying the importance of total compliance across all units; 3) the long-term benefits of the change to the entire organization.
Following this meeting, the creative team swung into action, guided by the producer. First, the writer developed the script – a 4 & ½ minute narrative that got the audience's attention, kept them interested, and clearly focused the primary message points. The next step was the storyboard, where our artist created the visual metaphors, images, and other visual elements (consistent with brand guidelines) – to help the audience visualize the change and focus on the message and ideas.
After content and legal reviews, the artist moved the easel to the video studio, where, working with the director, all elements were shot – and all "live draw" elements painstakingly drawn as the camera rolled. The narrator then entered the announce booth in the audio studio and recorded – with the inflection of each word carefully delivered to reinforce the visuals and primary message points.
Once all elements had been created, the editor performed magic in the editing suite. By speeding up the hours of footage shot in the studio, incorporating special effects and animation, the now flowing visuals brought the script alive for the audience; this "speeding up" allows a significant message and supporting ideas to be powerfully communicated in a brief video. The final touch was adding just the right music to set the proper tone and feeling.
And the audience? In one viewing of this compelling, clear presentation they understood and remembered the intended message. That's communication!
Do you need to communicate new ideas to your organization in a brief, engaging, and meaningful way? Contact us at Blueline Simulations and let us show you how the power of telestrations can be put to work for you.