As part of a potential organizational change project, I recently read a book called All Customers Are Irrational by Bill Cusick. One of many things that he said that really stuck with me was that companies need to articulate their soul.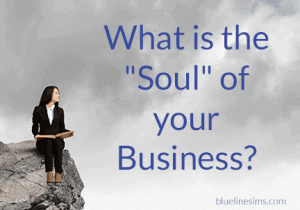 So I started to make a conscious effort to ask our customers and associates what makes us who we are. I'm really proud of the responses that I received. It all started with the way that our clients perceive our people. I typically heard things like: "amazing," "incredibly creative," "I trust you," "truly impressive," and "it's clear that we got your best." And the way that our people feel about the projects that they are working on: "I own this," "I'm accountable," and "I'll find a way." So, with a little help from our writers, I made my best effort to distill this into what I believe is the soul of who we are: "Creative, personally invested, flexible and accountable."
Blueline's "soul" has become a tremendous sense of pride for me, my Partners and our team.
Whether you are embarking on a major change, developing leaders, or inviting new Associates into your organization, I would strongly encourage you to define the "soul' of your business.