Clear ROI has been the Holy Grail for training and development for years. And even more so these days, with heightened sensitivity to cost and delivering maximum return to the business. So how do you answer the ROI question when your boss comes calling?
In more than 25 years in the training industry, I've encountered only one type of off-the-shelf solution that consistently has an immediate impact on the bottom line: developing business acumen.
Bringing vision to life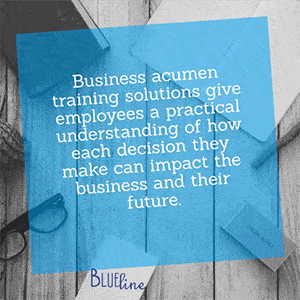 Surprisingly, business acumen is a challenge that exists in even the most high-performing organizations. Without a business acumen lens, employees are unable to see or understand the impact their work has on the larger enterprise. Business acumen training solutions give employees a practical understanding of how each decision they make can impact the business and their future.
Imagine for a minute that everyone in your organization, from housekeeping to the CEO, practically understands how the decisions they make contribute to your bottom line. It's a feasible vision, and I've seen companies make amazing strides by equipping their employees with such an understanding. Let's have a little fun with the math:
Let's say your company has 5,000 employees and that every employee makes a decision that can save the company $1 a day. That translates to $1,825,000 in a single year!
If your business typically returns a net profit of 10%, that means your business would have to generate $18,250,000 in revenues to have the same impact. Alternatively, imagine how much that $1,825,000 can return to the business over the next decade: more than $6,000,000 at a 12% return on capital.
And this is a conservative scenario! Imagine if every employee committed to making a daily decision that saves your company not just $1, but $5, $10 or even $100 a day.
In my experience, employees adopt this sensitivity only once they're equipped with an enterprise big-picture view of the organization and understand the drivers of both profitability and cash flow.
So what do you say? Are you looking for a way to make a quick impact on the bottom line – one that pays dividends for years to come? Check out Blueline's broad range of business acumen solutions. Then contact us to discuss how to put these solutions to work for you.
Save