It's a common belief that, for all of their plusses, the big minus with eSimulations is their inability to discern nonverbal communication. And with research showing the significant role tone of voice and body language play in human communication, that's a very big minus.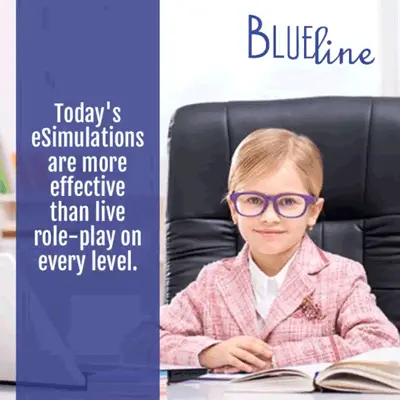 Recent advances, however, have changed that. In fact, for many applications, today's eSimulations are more effective than live role-play on every level. Here are a couple of reasons why:
Level 4 eSimulations (using a rules-based gaming engine) are extremely realistic. Now that developers can create hundreds (and in some cases thousands) of video-based nodes, eSimulations can accurately reflect small changes in tone and body language. Throw in the use of voice recognition, and you have an unparalleled user experience!
eSimulations deliver a consistent experience for every user. Notice that I didn't say the same That wouldn't be accurate because, in theory, depending on the number of nodes, hundreds could face the same choices and have the same opportunities, but because of the decisions they make, have a completely unique experience. eSimulations eliminate the variability inherent in a live human role-player and can be scored in such a way that they eliminate rater (coach) bias as well.
eSimulations can provide significantly more practice opportunities than classroom-based live-role play. For each live role-play, you need to engage two people and optimally three, who often then rotate roles. In the same or less time, all three people could accomplish three rounds of practice each, and probably more, through eSimulation.
That said, eSimulations still aren't for everyone – primarily because of price. While development costs have dropped dramatically as developers have improved processes and tools, the relative value of this technology is still dictated by the volume of users who can benefit. While some off-the-shelf solutions can serve small numbers of users cost effectively, custom applications typically need an audience of 100 or more users to be cost effective.
I invite you to contact us to learn about any of our custom classroom simulations, Blueline Blueprint™ learning visuals or other innovative delivery methods that have been generating notable business results in leading organizations worldwide for more than 13 years.