As a leader, it's a good bet that you understand the power of showing vs. telling when it comes to communicating complex messages to your employees.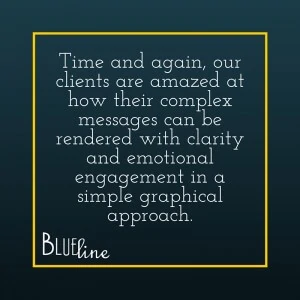 Communicating important information verbally or in writing can be confusing and leaves the door wide open for interpretation. The mind's eye is often quick to interpret what it understands the message to be – right, wrong or somewhere in-between. And once employees start talking, misinformation can spread like wildfire.
So how do you take the reins and ensure all of your employees receive, understand and see their role in your organization's most important messages? You use a Blueline Simulations Journey Map.
Our Journey Maps use visuals, narratives and metaphors to engage employees in a highly participative way. They're a proven, powerful tool for:
Providing an easy-to-grasp overview of robust and complex messages
Creating a narrative around organizational issues that allows readers to instantly see their role in the big picture
Engaging readers at both a rational and an emotional level – so they don't just understand the urgency, but they actually feel it
A Journey Map Explained
A Journey Map is a small graphic, rich in both quantitative and metaphorical/narrative data. The standard tabloid-size 11×17 document is meant for "individual consumption" and is not to be confused with our Blueline Blueprint.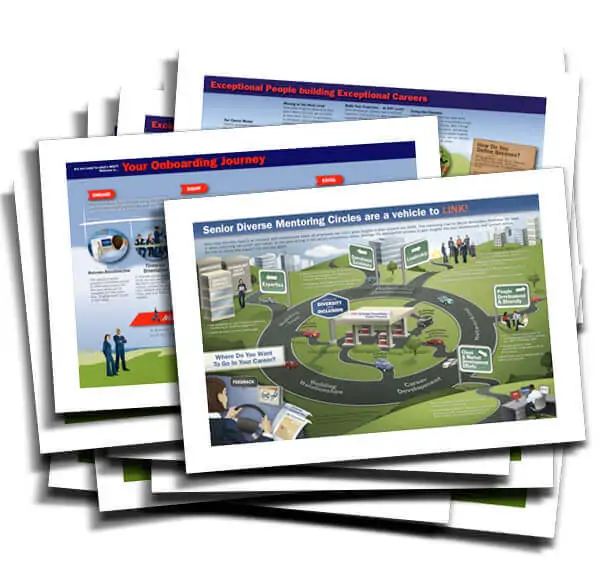 In addition to being "visual," the Journey Map also is "narrative," meaning that it enables readers to not only connect with individual messages, but also to better understand those messages in the context of how they relate to one another while improving communicating with one another.
One of our clients successfully used a Journey Map to rebuild its employee onboarding process. The grand story about possibility, change, a shared vision and aspirations of the new hire – a story typically told in a series of lifeless bullet points – all came together in an efficient, effective, powerful story.
The Journey Map connected all the dots: New hires were able to quickly "find themselves" in the visual, while organizational leaders placed their progress in the context of a broader goal. This solution contributed to a best-in-class onboarding solution that is now regarded as one of the best in the country.
Similarly, another client was introducing culture change with dramatic implications for how associates interacted with customers. By presenting the change in narrative format, associates were able to reflect on their own roles within the initiative and recognize how their goals were aligned with the goals of the organization. The reaction was a stark contrast to the "defensive" response leaders were expecting.
Time and again, our clients are amazed at how their complex messages can be rendered with clarity and emotional engagement in a simple graphical approach. We welcome the opportunity to amaze you, too. In addition to Journey Maps, we also have ideas for couching your message in a narrative context for employee handbooks, investor communications and more.
Contact us today!