My last blog made the case for simulation being a uniquely effective way to both immerse and engage your learners for maximum adoption and retention. I outlined the types of simulation and discussed how they can be used to: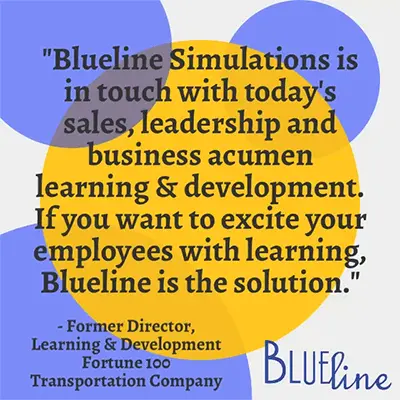 apply knowledge, skills and behaviors in context
deliver just-in-time, just enough performance support
assess needs and pinpoint skill deficiencies
Yet for all of their plusses and performance points, the objections I hear most often are around development time and investment associated with custom simulations. Despite the fact that the time and expense associated with developing these immersive learning designs have shrunk through the use of innovative new technologies, there are still many scenarios where time and cost can be barriers.
Notice I said can be. But contrary to popular belief, they certainly don't have to be.
Off-the-Shelf Options
Before you dismiss simulation as a viable training solution in your organization, I challenge you to weigh your options with off-the-shelf offerings proven to build enthusiasm and maximize retention across a broad range of competencies.
Blueline Simulations offers a number of off-the-shelf simulation experiences on topics ranging from sales and marketing to leadership development, business acumen to innovation. These time-tested offerings have been the catalyst for learning and development in leading organizations for many years without the costs typically associated with custom development.
We've simplified the process of choosing the simulation that aligns with your needs by creating matrices of our offerings across the categories. I invite you to take a look at our sales and marketing, leadership development and business literacy product matrices to help determine whether the magic of these simulations' discovery and experiential learning methods is what you're looking for in your organization.
Over the next few weeks, I'll address three more critical questions to ask yourself to determine whether simulation is right for you. In the meantime, I invite you to contact us to learn more about any of our custom classroom simulations, Blueline Blueprint™ learning visuals or other innovative delivery methods that have been generating notable business results in leading organizations worldwide for more than 14 years.
Save
Save
Save
Save
Save
Save
Save