Like most organizations, yours likely has a special group of employees whom you view as high potentials – individuals who stand out because they already demonstrate many of the characteristics necessary to be future organizational leaders.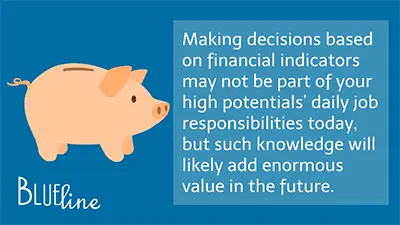 They know their jobs, they know the organization, they know how to build relationships, manage employees and serve customers. But do they really understand the business? Do they understand the financial metrics that lead to success?
Making decisions based on financial indicators may not be part of your high potentials' daily job responsibilities today, but such knowledge will likely add enormous value in the future.
That's why Blueline Simulations is excited to offer Business Challenge™, a one-day simulation in which competing teams of first- and second-level leaders strive to grow their businesses effectively by making investment decisions, funding their strategies and evaluating their results based on real-world financial metrics. Training high potentials has never been so immersive.
This revolutionary program is delivered as either a classroom or virtual classroom experience. An optional online program called Fluent in Finance™ is recommended to help participants prepare for success in Business Challenge™.
Rather than try to explain in any more detail, I invite you to watch our Business Challenge™ webinar and see for yourself how this experience can add a vital missing piece to your high-potential grooming puzzle.
Looking for more? Discover our complete set of leadership development experiences first hand through a series of 50-minute webinars hosted by Blueline's Managing Partner and its Director of Leadership Innovations.
I also invite you to contact us to learn more about any of our custom classroom simulations, Blueline Blueprint™ learning visuals or other innovative delivery methods that have been generating notable business results in leading organizations worldwide for more than 13 years.