We did it. We successfully trained a group of 300 directors and vice presidents in core leadership values through Executive Challenge™. Now it was time to find a company that could put the cherry on top.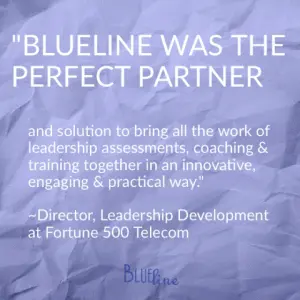 I wanted an immersive classroom experience that would build strategic thinking skills and adaptable decision-making in a competitive and dynamic environment. I needed something that would test participants' behaviors against their newly learned values as much as their executive acumen.
There were dozens of providers to sort through – all touting their simulation solutions as the "most advanced," "easiest to deploy," "best immersion" and so on. I didn't have the time or experience to sort out the best from among them.
Then I came across Blueline Simulations, which had already done the research to identify simulations and providers with the highest customer satisfaction. They also offered program and project management resources, meaning we could do everything from negotiating terms to planning our implementation to conducting the simulation itself.
We selected Blueline Simulations' Executive Challenge™, a competitive multiplayer simulation that puts participants on the leadership team of a virtual company.
We conducted roughly 15 sessions over a two-year period. Each delivery built on the one before as we refined the training simulation in ways that made it feel as if it had been designed just for us. The work we did on debriefs and adverse events to help "customize" the experience made it that much more relevant to the audience.
Attendees were tasked with growing a virtual business by investing in and producing product lines, responding to market demands, and balancing time, capital and human resources. Throughout the simulation, teams evaluated the sustainability of a business and the long-term implications of short-term decisions; acknowledged personal management styles and leadership blind spots; balanced personal and organizational objectives; collaborated to solve complex business problems; defined a clear strategic vision as a team; and implemented the vision in the face of adverse events.
Teams prepared presentations at the end of the simulation and delivered them to a board of directors composed of company executives. The board chose a winner based on strategy, financial performance, team effectiveness, ability to handle adverse events, adherence to program competencies, sustainability and overall presentation quality.
Participants found the simulation invaluable. They experienced the challenges of being results-focused leaders while using behavior and relationship skills in their interactions with fellow team members. They rated the experience highly, remarking on "how the pressure, the competitiveness, the unexpected turn of events really tested their ability to work collaboratively to make good decisions and to execute against them."
Blueline was the perfect partner and solution to bring all the work of leadership assessments, coaching and training together in an innovative, engaging and practical way that was useful and memorable to my directors and vice presidents. They comment about it to this day.