The evolution to a hybrid workplace—where team members work on-site or off based on wide ranging organizational guidelines—was still just being tested by forward thinking companies when the global pandemic made it a necessity. Now, organizations and employees around the world are realizing the benefits of hybrid work, such as employee wellness and increased productivity. But what happens to activities that required employees to be on-site, such as synchronous employee training?
The views of hybrid work advocates have been validated by various studies, such as Owl Labs' State of Remote Work 2021 report, which found that remote and hybrid employees stayed in their jobs longer and were 22% happier than workers in an on-site office environment. Another study from Ergotron sampled 1,000 previously full-time workers who had become more acclimated to hybrid and remote office environments since the onset of Covid-19. The study found that 88% of employees agreed that the flexibility to work from home or the office had increased their job satisfaction, with 56% of employees citing mental health improvements, better work-life balance and more physical activity.
A hybrid workplace is an increasingly valuable tool for businesses, and its success will require a lot more than the right tech. Training for hybrid teams needs to take an approach that inspires remote team members to show they are fully engaged with their cameras and mics on, by choice. That's why HR and management teams need to adopt new learning strategies, putting the right tactics in play so that all employees—whether on-site, remote, or both—can have high-quality learning experiences, and equal opportunities for career development. Read on for five top tips for training today's hybrid workforce.
5 ways to effectively train a hybrid workforce
1. Reduce or eliminate on-site training events
Yes, this is a controversial statement. However, consider that one of the key benefits of the hybrid workforce is the ability to draw talent from a global pool. As workforces become increasingly more dispersed geographically, producing on-site training events becomes more burdensome than ever. Organizations need to cater fairly to those who are unable to be on-site. To avoid proximity bias and promote inclusivity, it's advisable to go all-in by transitioning most or all of your training to online and hybrid learning platforms. Doing so means staying true to the promise of a flexible workplace where people can choose to work and learn from anywhere.
2. Incorporate empathy training
Remote and hybrid work environments have enhanced the need for emotionally intelligent employees that show empathy toward one another. Developing empathy helps to improve interactions across the entire organization, and is especially important in a hybrid workplace model where on-site interactions are becoming less frequent. Having a greater understanding of people goes a long way in harmonizing the team, and increasing productivity and effectiveness.
Our ExperienceBUILDERTM simulations foster emotional intelligence and encourage empathy by guiding individuals into meaningful conversations to work through complex situations, uncovering biases and judgment, and improving inclusion efforts for a diverse workforce. In an ExperienceBUILDER simulation, teams collaborate to find solutions that balance business needs with other priorities. Working as a team encourages all learners to talk through the various challenges and associated responses, allowing them to explore and appreciate different perspectives and beliefs.
3. Create immersive learning opportunities
Using realistic, scenario-based learning allows for enhanced learner engagement, regardless of a learner's physical location. The need to deliver scenario simulations to a hybrid workforce was one inspiration for ExperienceBUILDER, which delivers highly immersive and engaging synchronous learning experiences to teams of learners, regardless of location. Each immersive learning experience is carefully crafted to maximize participant engagement and drive knowledge retention and skills acquisition. These real-life simulations induce thoughtful conversations, leading learners to share personal experiences and unique points of view, uncover best practices, explore potential pitfalls, and build their skills both as individuals and as part of a team.
Could your team benefit from leadership development?
Effective leadership training should be:
Engaging
Thought-provoking
Collaborative
Truly productive
Experience scenario-based learning with these FREE leadership development scenarios with 1st and 2nd level leaders.
4. Keep employees engaged
It's no secret that engaged employees are more motivated and productive; they also remain committed to their employers for longer. A hybrid work environment demands new ways to keep people connected and to prevent the risks of proximity bias and polarization.
One of the tried-and-tested ways to increase employee engagement is to invest in employee development. As we have discussed, the means of doing so has changed in the world of the hybrid workforce. ExperienceBUILDER, delivers immersive and engaging collaborative learning activities that get hybrid and remote teams of learners talking and connecting just as effectively as they would in a traditional classroom. Keeping them engaged in their individual development and with others on their team fosters a culture of commitment.
5. Harness new tools and technology
New platforms and innovative ideas for enabling remote collaboration have exploded onto the scene in the last two years. ExperienceBUILDER, is a digital design platform that delivers immersive learning simulations custom-designed for your organization's needs. Small teams of learners around the world are given the opportunity to explore ways to solve your company's most pressing challenges regardless of location, device, or language.
In an ExperienceBUILDER simulation, learners are presented with complex problems based on real-world situations, along with a range of solutions with no clear right or wrong answers. Learners work in teams to make difficult decisions that require them to consider important concepts, determine critical variables, and anticipate the potential impacts on a combination of business metrics. To move forward, learners must engage in deep discussions and vigorous debate to tease out best practices and common mistakes to identify the best possible solution for that specific situation. This collaborative and engaging approach allows for a richer and more relevant learning experience for a hybrid audience.
Are you faced with the challenge to develop high-quality, effective training for a hybrid workforce? Contact us to see first-hand how our ExperienceBUILDER platform is changing the game.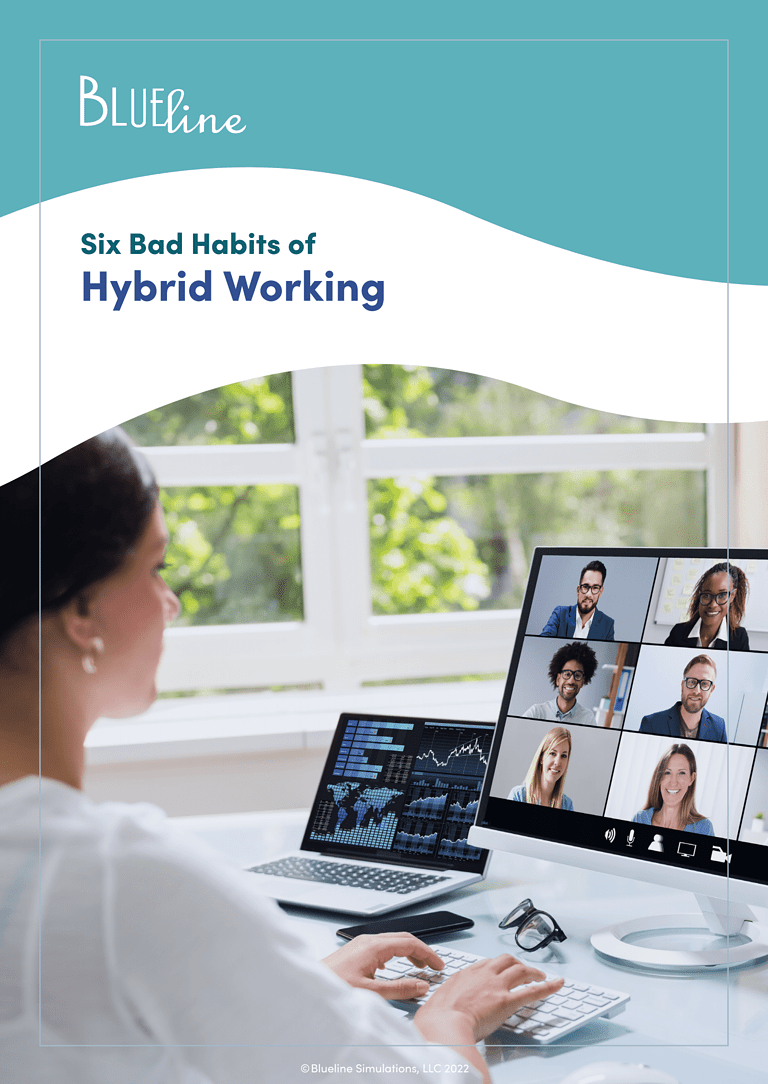 Get Your Free 10-minute eBook: Six Bad Habits of Hybrid Working
Hybrid work is the new normal. Take 10 minutes to read our free eBook to see how many bad habits your organization is guilty of—and how to fix them!