Talent scarcity and high employee turnover are among the biggest challenges organizations are facing in 2022, making it more important than ever to engage and retain employees from day one. One pillar of success is having a robust employee onboarding process, which also helps new hires be productive sooner. In fact, research by Brandon Hall Group found that organizations with a strong onboarding process improve new hire productivity by over 70% and retention by 82%.
In the hybrid working world, companies are turning to technology, such as Zoom, to onboard new remote employees. We know that employee onboarding is essential to retaining new hires, prioritizing employee satisfaction, and maintaining a productive office environment, but the question is: how can an onboarding program be delivered effectively over Zoom and other remote engagement tools? There is ample opportunity for the majority of businesses to improve their remote onboarding delivery, evidenced by the fact that only 34% of employees are satisfied with their job-specific training.
In this blog post, we uncover how to improve onboarding with Zoom so that companies can maximize employee satisfaction from the moment they sign into their company email address.
How NOT to onboard via Zoom
The new world of work necessitates remote onboarding. But there's more to remote onboarding than having the new hire meet the team in an online meeting before being subjected to passively watching a talking-head PowerPoint presentation, pre-recorded training resources, or a series of asynchronous emodules. With the limitations of asynchronous virtual onboarding resources and tools, these online experiences can feel impersonal and leave new hires feeling isolated—the opposite outcome of a strong remote onboarding process that engages new hires from the start.
Employers need to provide immersive onboarding experiences designed from the ground up for a geographically dispersed audience. It's a worthy endeavor—employees who feel supported and engaged in their work are 87% less likely to leave the company.
Here's how to improve onboarding via Zoom:
Schedule video calls to meet the team
One downside of remote onboarding is the lack of face-to-face introductions and interactions. It could take an employee a lot longer to actually meet their colleagues than in an office where everyone gathers in the same setting. To overcome this barrier, it's important to connect new hires to supervisors, suppliers, peers, and other stakeholders using video calls. Starting a new job virtually can be a lonely experience, so these friendly introductory meetings provide a valuable platform for a new hire to get to know the team and help them develop a sense of the company structure.
Once introductory meetings have taken place, it's helpful to schedule routine check-ins to help maintain healthy professional relationships.
Provide immersive learning and training experiences
Onboarding training sessions provide an opportunity to share company-wide best practices, procedures, culture, and expectations, along with job-specific skills. But improving these learning experiences and outcomes in a remote environment requires a new approach. One of the most effective ways of onboarding remote employees is to build custom, immersive scenario simulations that model real-life challenges new hires will face in the coming months.
Blueline's ExperienceBUILDERTM digital design and delivery platform is delivered via Zoom, or another preferred video conferencing platform. When it comes to delivering an immersive, engaging, and effective onboarding experience, ExperienceBUILDER checks all the boxes:
Custom, real-world scenarios mimic on-the-job applications and use enterprise metrics and key performance indicators (KPIs) to measure success.
Interactivity keeps employees engaged by using synchronous, team-driven activities that inspire learners to debate, test, and share past experiences.
Employees are engaged in realistic, challenging dilemmas that don't have a single right answer.
Teams of learners collaborate to solve real-world problems, resulting in stronger teams and better learning outcomes.
Gamification maximizes engagement and motivation.
The synchronous, team-driven, discovery-learning experiences delivered using ExperienceBUILDER help new hires get a fast start by acquiring company knowledge, learning new skills, building relationships, and broadening their networks in remote and hybrid settings.
Are you curious to learn more about using ExperienceBUILDER and the experience of the Blueline team to create an exceptional remote onboarding experience? Get in touch with the team to schedule a demo.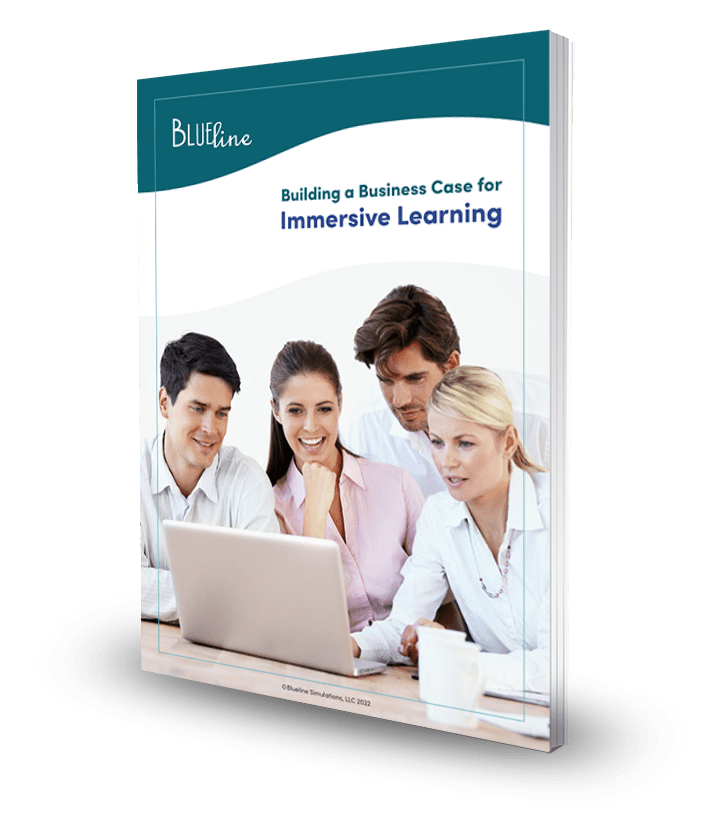 Are you struggling to prove the value of learning to CEOs and executives? Download our free guide!
Build the business case for immersive learning
Demonstrate return on learning investment (ROLI)
Gain buy-in from employees and executives for your learning and development initiatives
It's your job to create your organization's vision, and it's our job to help turn that vision into a blueprint for success.