Whether virtual, in-person, or hybrid, modern work is all about teams. Businesses today require collaborative work that often spans time zones, hemispheres, and organizational levels. The complex, team-centric nature of work is reflected in learning and development trends, leading to the growing adoption of cohort-based learning and team-based learning models. Forbes has claimed cohort-based learning is transforming online education. So, what's all the buzz about?
What is cohort-based learning?
Cohort-based learning is a collaborative learning style in which a group of individuals advance through an educational program together. A cohort-based course is typically organized according to a syllabus and taken by a group of students simultaneously. Cohort-based courses can take place online, in a virtual space, or in a physical classroom. A simple example is traditional on-campus programs, such as high school or college—classmates complete the same assignments, adhere to the same due dates, and study material together. In an online cohort learning model, learners complete an educational program with their peers online instead of in person. In a business setting, a cohort of learners may be individuals who joined the company at the same time or are working through a leadership development experience together.
What's the difference between cohort-based learning and self-paced learning?
Self-paced learning is a learning style in which individuals advance through educational programs independently. Although they may take the same classes as others, they'll progress through the course and complete assignments at their own pace. Self-paced learning is commonly delivered in the form of e-learning programs that make courseware available at any time, allowing learners to engage with the course material whenever it works best for them.
A self-paced e-learning program is often recommended for busy professionals with changing schedules. Self-paced learning is an effective way to introduce knowledge, including concepts and processes. However, e-learning falls short when it comes to applying new skills and changing learner behavior. When you study alone, you typically remember 28% of what you learned after two days; when you practice the content, answer questions about it, and interact with others, you remember 69%.
Team-based constructs within the cohort-based learning framework are better positioned to help learners develop and apply complex skills, such as creativity, problem-solving, interpersonal skills, and leadership. That's why L&D teams are incorporating small team activities designed to bring to life concepts and processes introduced through e-learning by offering opportunities to apply the learning in realistic settings.
The benefits of cohort learning
Collaboration: Particularly in an online environment, a cohort learning model facilitates social interaction and collaboration, enhancing the learning experience and providing a sense of community.
Support: Cohort learning connects learners to the support of peers and faculty. Some online learners may prefer a cohort learning model to a pure self-paced learning model because they prefer the solidarity that comes with learning in a group setting.
Structure: Cohort learning provides structure in the form of set due dates and discussion forums.
Perspective: As learners engage with teammates, they'll be exposed to new perspectives, opinions, experiences, and ideas.
Networking: Learning with others makes it easier to further network and build relationships.
Application and retention: Individual learners are much more likely to retain information learned in groups.
Completion: Where self-paced courses have completion rates as low as 3%, cohort-based courses often see completion rates of over 90%.
How does synchronous, team-driven, discovery learning fit in?
At Blueline, we design team-driven learning experiences. So, what's the difference between cohort learning and our synchronous, team-driven, discovery learning? It's not an either/or—these are complementary concepts. In fact, many of the world's biggest and best-known brands are incorporating team-driven experiences within their cohort-based designs.
The team-based learning approach in business satisfies three important criteria that promote optimal learning:
Learners are immersed in a practical, ongoing activity.
Learning is multi-directional, with feedback from other learners and the instructor.
Learning is functional and based on a real problem.
Participants typically work together to solve problems, share stories, identify best practices, and uncover common failure points.
Effective examples of cohort-based learning design often incorporate a team-driven discovery learning component. These experiences may include gamification, real-world simulation, discovery learning, and customization to each organization's specific aims and context.
In fact, Blueline's ExperienceBUILDERTM digital design and delivery platform can serve as a launchpad for effective cohort-based learning. It can also be used to create a capstone experience to e-learning or presentation-based curriculum, where learners engage further with the content through synchronous, team-driven discovery learning.
ExperienceBUILDER delivers scenario-based simulations that create powerful opportunities for competition, scoring, and engagement with the learning material. Crucially, the content is designed to develop skills and competencies that are closely linked to the organization's success. Learners are pulled into scenarios in which they must engage in meaningful discussions to move forward. The answers are not clear-cut; as in real-life scenarios, these simulations offer multiple paths forward. A back-end scoring system with targeted feedback enables competition between teams, furthering their investment in the overall outcome. Through these features, the ExperienceBUILDER learning experience extends cohort-based learning and maximizes immersion, engagement, and retention.
If your organization is looking to scale learning across globally distributed teams, keep employees actively engaged in their learning, and help your teams gain today's much-needed collaborative skills, get in touch with Blueline to learn more about our synchronous, team-driven, discovery learning experiences.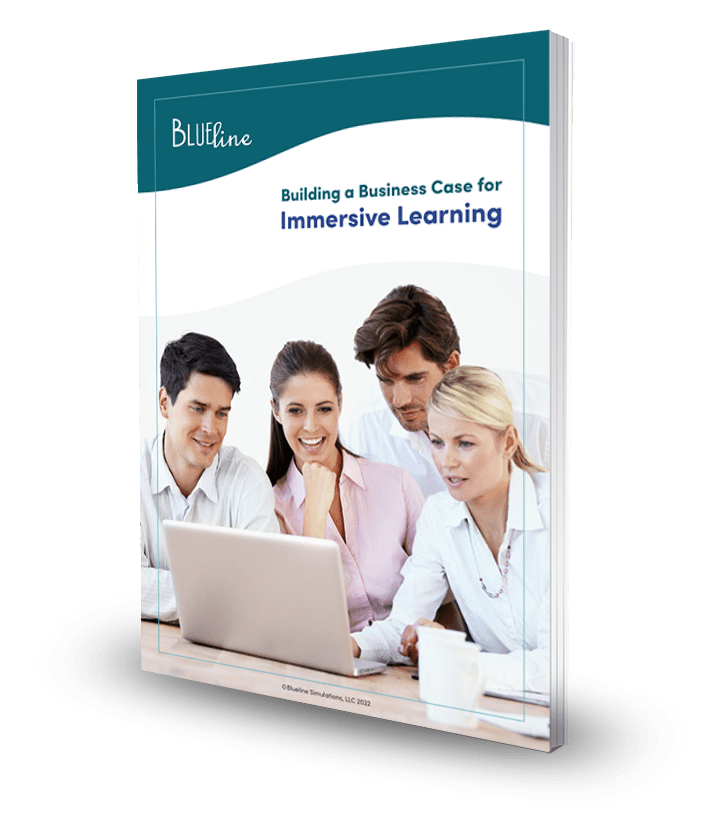 Are you struggling to prove the value of learning to CEOs and executives? Download our free guide!
Build the business case for immersive learning
Demonstrate return on learning investment (ROLI)
Gain buy-in from employees and executives for your learning and development initiatives
It's your job to create your organization's vision, and it's our job to help turn that vision into a blueprint for success.