The future of work is here. Buzzwords abound: Web 3.0, the Fourth Industrial Revolution (4IR, if you're really with it), Industry 4.0, the Internet of Things, machine learning, the metaverse…the list goes on. Along with it comes the need for new approaches to hybrid workforce training.
No matter the words scattered across your LinkedIn news feed, the world of work has changed, and a new world of work necessitates a new approach to skill development. Today's learning and development (L&D) professionals are required to keep pace as business needs shift, but there's more to modern skill development than signing up for the sexiest tech solutions.
According to the World Economic Forum (WEF), the jobs of 1 billion people (almost one-third of all jobs worldwide) will be transformed by technology by 2030. To remain relevant and competitive and keep up with current workplace trends, L&D professionals need to make it their mission to help working professionals adapt, reskill, and upskill. Yet many companies are stuck on outdated learning modalities that fail to effect real behavior change in the hybrid working world. So, does the answer to today's L&D lie in new learning technologies? It depends. Technology in all its forms is a key element in addressing global talent challenges, but it's not the silver bullet some would believe it to be. There's no doubt that technology enables L&D professionals to impact learning outcomes at scale and with speed, but it's not without its potential pitfalls. 
The global education technology market size was valued at $106.46 billion in 2021 and is expected to expand at a compound annual growth rate of 16.5% from 2022 to 2030. Learning technology has become big business, and L&D professionals are presented with slick sells from thousands of vendors, platforms, and options: virtual reality, wearables, robotics, the metaverse, artificial intelligence (AI), mobile learning, and more.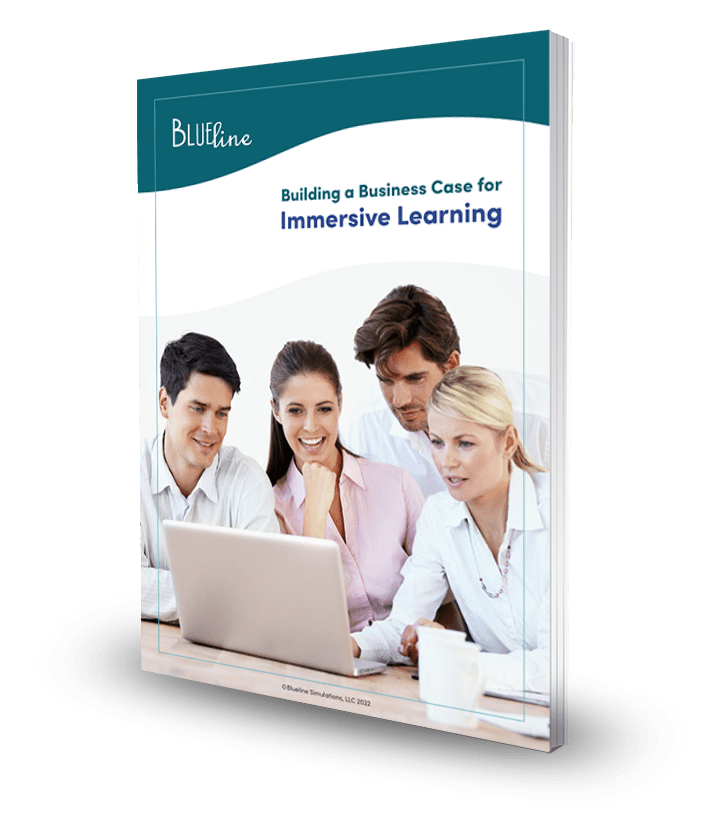 Are you struggling to prove the value of learning to CEOs and executives? Download our free guide!
Build the business case for immersive learning
Demonstrate return on learning investment (ROLI)
Gain buy-in from employees and executives for your learning and development initiatives
It's your job to create your organization's vision, and it's our job to help turn that vision into a blueprint for success.
Questions to ask when evaluating L&D technology for hybrid workforce training
Can it be customized to serve your desired outcomes?
What does it help learners do?
How will the costs affect your ROLI?
How scalable is the solution?
Can it be delivered just as effectively to on-site and off-site learners?
Does it work regardless of location, device, or language?
How engaging is the content and delivery?
Is it easy and intuitive to use?
How corporate L&D professionals should look to leverage hybrid workforce training technology
Understand the need
First of all, stop chasing the latest cool toys. The most effective solutions are the solutions that are effective for YOU. Even when a learning technology has a strong use case, a poor needs analysis can lead to missed expectations and disappointed stakeholders, so start by understanding what you are solving for, as well as the root cause of the problem. Blueline uses our Voice of the Business process to mine insights from inside your business to help you understand your greatest challenges and training needs. Once you know the pain point you need to (and reasonably can) solve, you'll be better positioned to ensure that the tech matches the need.
In many cases, standard off-the-shelf interventions and implementations that tout a one-size-fits-all approach rarely address your business' specific learning needs. Because every organization has a unique set of issues and challenges, customized solutions generally beat off-the-shelf and e-learning programs and courses for achieving most strategic business outcomes.
Evaluate potential return on investment
As with all learning initiatives, return on learning investment (ROLI) is always a key consideration. In previous blog posts, we've spoken about how immersive learning technology exists along a continuum, and how it's important to identify the sweet spot between immersion and scalability—having every learner don a special headset may make a significant dent on the budget, but it doesn't necessarily guarantee the best possible learning outcomes.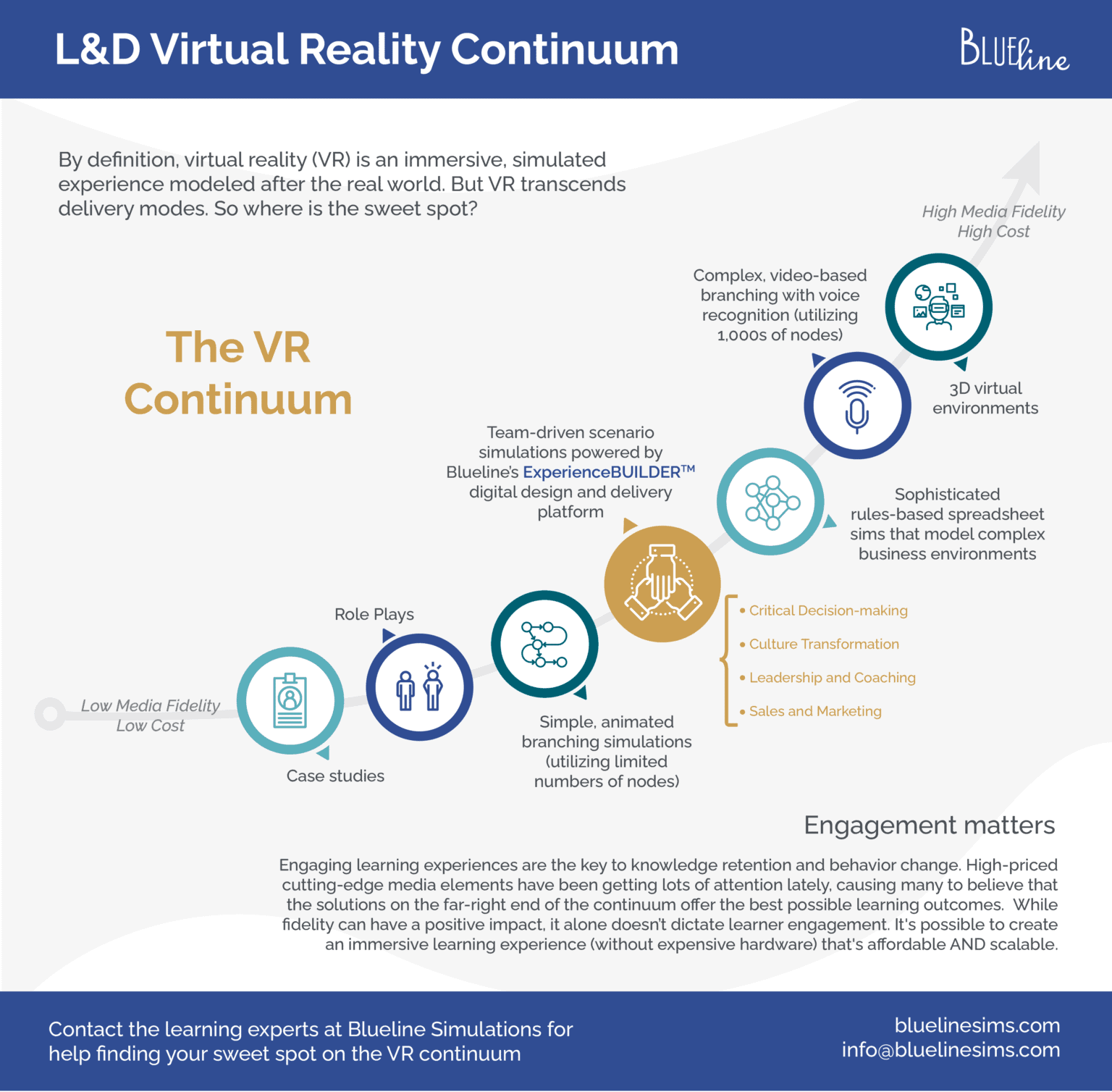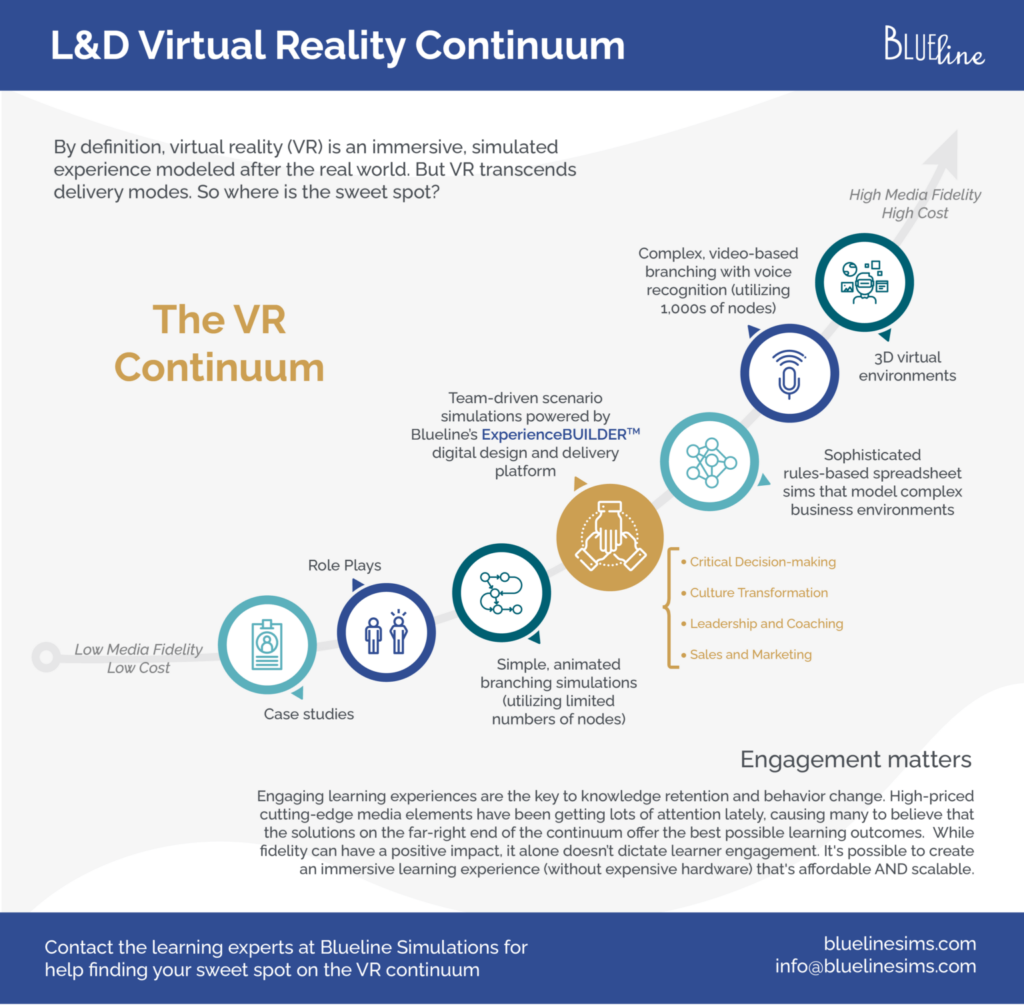 Choose sound learning design over flashy gimmicks
The key to effective learning experiences isn't just about the technology; it also requires solid learning design. The successful delivery of future-fit learning programs requires the right technologies that enable highly immersive and engaging synchronous learning experiences to teams of learners. This can take the form of custom learning simulations that deliver relevant and contextual learning content.
The team-driven simulations powered by Blueline's ExperienceBUILDERTM digital design and delivery platform are custom-built to suit the needs of the hybrid workforce. Balancing scalability and cost, ExperienceBUILDER delivers highly immersive and engaging synchronous learning experiences. The team-based learning model is designed to keep hybrid and remote teams of learners communicating and collaborating as they build new skills for the modern world of work. Contact us for a demo to see how the ExperienceBUILDER platform is helping some of the world's leading global companies adapt and thrive in today's dynamic environment.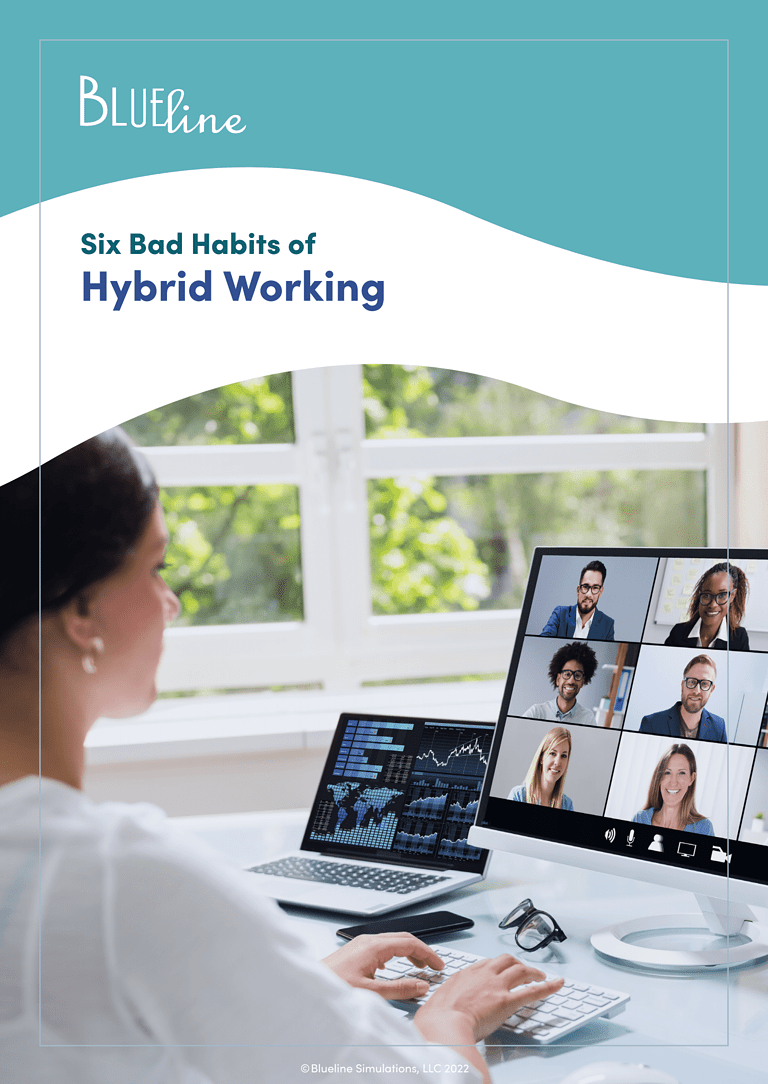 Get Your Free 10-minute eBook: Six Bad Habits of Hybrid Working
Hybrid work is the new normal. Take 10 minutes to read our free eBook to see how many bad habits your organization is guilty of—and how to fix them!