In the context of the Great Resignation, organizations are fighting to acquire and retain valuable talent. The widespread adoption of hybrid and remote work has added further complexity, as employers are challenged to engage and motivate their employees without the guarantee of physical proximity. Winning employers have realized they need to step up their game to attract and retain top talent, which is one reason there's never been a better time to focus on strategic onboarding.
Why make such a fuss about onboarding?
There are several reasons why our clients invest in the design and development of a superior onboarding program, including job readiness, time to productivity, employee affiliation, reduced attrition, risk avoidance, and compliance. You don't have to work too hard to make a case for ROI. According to Bamboo HR, employees who felt their onboarding was highly effective were 18 times more likely to feel highly committed to their organization and 30 times more likely to have high job satisfaction. Organizations using effective onboarding have 33% more employees who feel engaged compared to organizations with ineffective onboarding. And within the first week, almost 49% of those with effective onboarding reported contributing to their teams, compared to only 35% of those with ineffective onboarding.
Blueline's secret sauce for successful onboarding has 4 ingredients
Blueline Simulations has received the training industry's highest accolades for our onboarding work, and we don't mind sharing our secret sauce. In all our designs, we differentiate by emphasizing four elements:
1. Context
The use of immersive simulations, whether onsite or remote, puts the training in context. Using a simulation, rather than a one-way presentation of content, dramatically shortens time to productivity and helps to diminish the risks associated with new hires jumping into the job unprepared. Too many onboarding curricula fail to create a safe environment for learners to practice and fail forward.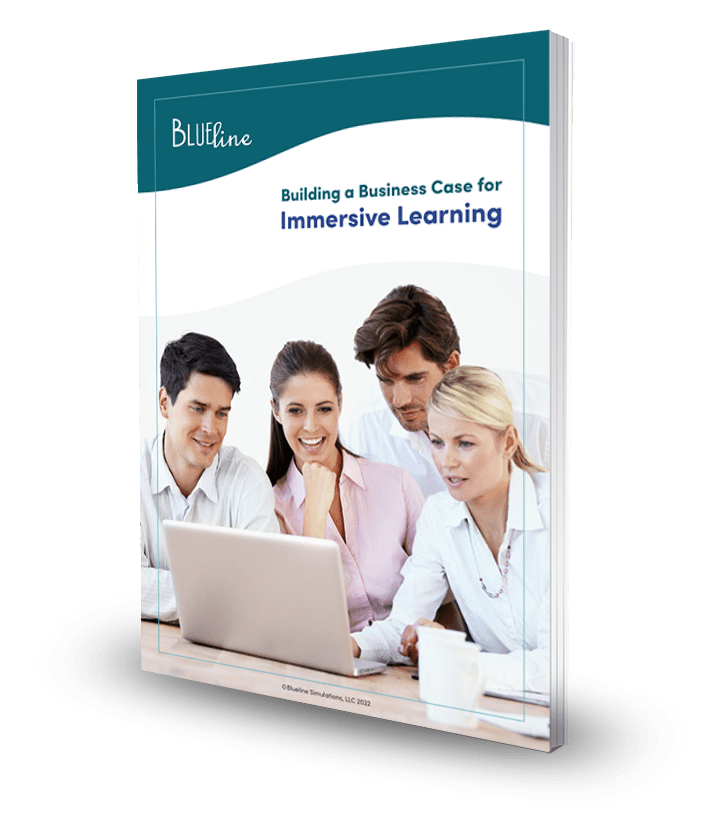 Are you struggling to prove the value of learning to CEOs and executives? Download our free guide!
Build the business case for immersive learning
Demonstrate return on learning investment (ROLI)
Gain buy-in from employees and executives for your learning and development initiatives
It's your job to create your organization's vision, and it's our job to help turn that vision into a blueprint for success.
2. Impression
A well-designed onboarding curriculum makes a strong first impression. Our clients strive to create a memorable experience that elicits pride and reinforces the person's decision to come on board. This has an immediate and measurable impact on affiliation and attrition.
3. Engagement and fun
Sure, fun is part of making a positive impression. But making learning fun is a strategic design consideration that has been shown to significantly increase learning and knowledge retention. Plus, top-quality new hires have high expectations when joining an organization. If their first experiences don't engage and excite them, a significant opportunity to engender commitment and passion for the company is wasted.
4. A culture focus
In many of our designs, we provide an engaging tour of the company, including its history and important cultural elements. Even beyond this exercise in organizational storytelling, every experience needs to reflect and convey the culture. We pay attention to how employee diversity is portrayed in the graphical elements, and even focus on the ways people use formal and informal language. That's because we believe that all aspects of the onboarding experience must reinforce the culture and values of the organization.
An award-winning application of the successful onboarding secret sauce
We applied our secret sauce to Booz Allen Hamilton's award-winning onboarding program. Booz Allen Hamilton is one of the world's most legendary consulting firms. More than a century old, the Virginia-based firm is credited with inventing the field of management consulting. The firm engaged Blueline Simulations to help redesign its onboarding program and implement the four program elements:
1. Context
Blueline created two immersive experiences for Booz Allen new hires. First, we developed a Blueline Blueprint learning visual to engage new hires in a visual and interactive tour of Booz Allen's history and culture. Learners worked in teams to answer questions, move along a visual timeline of events, and interact with illustrated data. They visualized the big picture and gained insight into the core values, seminal events, and cultural underpinnings of this distinguished organization. Next, a simulation situated participants in the role of a consulting project team at Booz Allen. Through competition, experiential learning, and teamwork, they made decisions and experienced consequences that fast-forward them through the learning curve of, "what is it like to work here?"
2. Impression
We never get tired of hearing participants in the onboarding programs we create use words and phrases like: "Wow" or "I've worked at a lot of companies and have never experienced something like this…" or "This really demonstrates a commitment to employees that I'm excited about." Blueline and Booz Allen have had the pleasure of being awash in these comments every time a cohort of new hires completed the onboarding experience.
3. Engagement and fun
Booz Allen's new hires represent some of the most experienced and intelligent former military, corporate, and government talent in the world. In Booz Allen's onboarding program, participants debate ideas (that's fun for geniuses), compete (of course), and explore information in ways that keep them wanting more. Teams move along a visual inspired by The Game of Life, making decisions based on the knowledge they acquire in experiential activities. Decisions result in consequences, which in turn cause the learner to earn or lose chips that amount to points accumulated against three key dimensions representing real-world success at Booz Allen. Events intervene, setbacks occur, and promotions and accolades accumulate.
4. A culture focus
There are few corporate cultures we have encountered as diverse and inclusive as Booz Allen Hamilton's. A new hire from Mumbai may be seated in the onboarding classroom next to a former U.S. Army Colonel. Blueline and Booz Allen collaborated intently to ensure the onboarding experience represents and includes the myriad of roles and textures that make up the Booz Allen organization. The Blueline Blueprint learning visual grounds each new hire in the cultural foundation of the organization, then allows every participant to find him or herself in a character or a role represented in the simulation.
The results
The program that we built with Booz Allen Hamilton has been widely recognized as a best-in-class solution. Our work together won a Bersin Learning Leaders' Award for Learning and Talent Initiative Excellence, as well as the ATD Excellence in Practice Citation for design and an Award for organizational impact. The Booz Allen program was also showcased in T & D Magazine's "Solutions" feature. Even more importantly, the onboarding program increased affiliation, reduced attrition, and equipped new hires for success at Booz Allen Hamilton. And that, more than any other acknowledgment, gives us a tremendous sense of pride. Survey results (both objective and subjective) revealed that the onboarding program at Booz Allen Hamilton has netted positive results in many areas.
Reduction of risk and better adherence to compliance starting in week one.
New hires improved awareness and understanding of critical firm compliance policies, which enhanced decision-making that could vitally impact the firm's credibility and legal culpability.
Productivity gains attributed to the job readiness of new hires going through the program.
Data collected from internal surveys reveal higher (6% average increase) levels of perceived job readiness and impact among new hires participating in the enhanced onboarding program relative to the legacy program. When asked if new employees received the onboarding they need to perform their roles effectively, employees rated the program a 4 out of 5 (or higher) 75% of the time. This is a full 23 points above the benchmark norm. Booz Allen Hamilton estimated that for each day the organization's new hires are not productive, the firm could lose up to $1 million dollars in potential revenue. Clearly, the new program has contributed significant monetary gains.
Attrition rates for employees with a tenure of 6 months or less was reduced by four percentage points after the launch of the enhanced onboarding program. This is six percentage points below the norm of similarly-tenured staff at other benchmark companies. When new hires have a good understanding of the organization and the culture they are joining, in addition to insights about their journey ahead based on immersion into simulated real-life situations with real-life decisions, they are more grounded and well-suited for what lies ahead.
The firm experienced increased levels of new hire affiliation and engagement.
A few of the most revealing facts include:
Greater than 95% of participants acknowledged the program had a positive impact on their impression of the company.
Interactivity and networking components are two of the most commonly mentioned positive attributes of enhanced onboarding.
Program surveys indicated that the firm's enhanced onboarding program outperformed the legacy program in 6 out of 7 survey question categories, including environment, logistics, guest speakers, instructors, objectives, and ROI.
96% of participants rated the enhanced onboarding curriculum, ROI, instructors, and program logistics higher than comparable components of the firm's legacy onboarding program.
Safe to say, an immersive approach to onboarding at Booz Allen Hamilton promotes accountability while creating value for new hires, their managers, and the firm in a variety of ways.
Onboarding hybrid and remote employees
Onboarding is one of the most important drivers of employee success. We want participants to be engaged. We want attrition rates to be low. We want the solutions that we create to be the best that employees have experienced, and we have lots of creative solutions for accomplishing that. Gone are the days of live classroom training that involves travel, meeting space, and logistics.
The need for effective remote learning and onboarding experiences inspired Blueline to develop its ExperienceBUILDERTM digital design and delivery platform, which takes learners through synchronous, team-driven, discovery-learning experiences. ExperienceBUILDER is used in combination with Blueline Blueprint learning visuals to produce specialized onboarding programs to help new hires get a fast start in remote and hybrid settings.
READ MORE: Tips for onboarding remote employees effectively
Want to talk more specifically about how Blueline can bring best-in-industry practices to your onboarding program? Contact us today.