In the post-pandemic context, developing leadership skills has become more crucial than ever. On-site interactions are becoming less frequent, employees' mental health and well-being have come to the fore, these, combined with the talent shortage mean employers and leaders must do everything they can to create a supportive environment. A study by Harvard Business Review found that 59% of hiring managers and 89% of executives surveyed reported having difficulty recruiting candidates with the requisite soft skills. Other research suggests that the return on investment for soft skills training is as high as 250%.
Here are the five most important leadership skills, as well as tips for developing them in a hybrid working environment.
1. Communication
Effective written and verbal communication is key to any successful workforce, especially with today's growing reliance on technology and virtual work. Among a myriad of benefits, leaders with good communication skills are able to increase workplace efficiency, improve motivation, advance their problem-solving capabilities, and increase retention rates.
While there are many training programs that focus on formal communication skills, it's just as important to cultivate leaders' ability to communicate informally. The one-on-one conversations with direct reports that happen every day can make a significant difference in overall employee satisfaction and retention. Blueline helped leaders at a Fortune 150 pharmaceutical company to have effective career coaching discussions with their direct reports, ensuring that everybody in the organization experienced an equitable and empowering career coaching process. Leaders needed to be able to navigate difficult conversations and get the right people in the leadership pipeline while maintaining or regaining the trust of their team members.
To hone their communication skills, we used Blueline's ExperienceBUILDERTM digital design and delivery platform to develop an immersive, scenario-based simulation to help supervisors develop the skills and confidence necessary for effective development planning conversations with employees. The synchronous, team-based design delivered a powerful experience and equipped leaders to have constructive discussions with their teams.
2. Teamwork
Good teamwork in the workplace leads to higher employee morale, greater workforce efficiency and productivity, increased innovation, improved employee retention, and many other benefits. Leaders who are able to work with others help their teams generate positive results.
ExperienceBUILDER uses a team-based learning methodology. In every ExperienceBUILDER simulation, teams have a predictable, stable environment to collaborate to solve real-world problems. Learners must engage in deep discussions and vigorous debate to make collective decisions that allow them to move forward. This team-driven discovery learning model helps leaders develop critical teamwork skills they can apply to their everyday interactions. Team-based learning has the benefit of building teamwork skills on top of nearly any type of other learning objective.
3. Empathy
In a competitive talent market, training for empathy has become a top priority for organizations looking for ways to retain and attract quality talent. A Center for Creative Leadership study found that empathetic leaders are "viewed as better performers in their jobs by their bosses," and empathy training has been proven to drive significant business results. When employees feel as though they are seen, understood, and valued, they are more likely to feel motivated, inspired, and fulfilled in their roles.
The good news is that empathy can be taught effectively if approached in a way that invites robust dialog and enables learners to see past their existing beliefs. ExperienceBUILDER simulations foster empathy using an immersive, discovery-based approach: simulations put learners into situations where there is no clear right or wrong answer, and teams collaborate to find a solution. This experience can help guide individuals into meaningful conversations, solve complex interpersonal situations, and uncover biases and judgment—all key to building greater empathy.
4. Self-awareness
Self-awareness and self-management provide the critical bedrock for other leadership skills. Being self-aware helps leaders become more sensitive to themselves and others, allowing them to effectively read a room and advocate for their employees' wants and needs—all while accelerating their personal career goals.
The key to establishing (and cementing) better self-awareness is learning about it AND putting it into practice. In real life, the best way to exercise self-awareness is through observations and reflections, looking for patterns, insights, and lessons that can be applied in similar future experiences.
From a business perspective, developing self-awareness can be a bit of a challenge. How do we help people develop their self-awareness without them having to learn from experiences on the fly? Is there a way to safely practice their self-awareness (and other soft skills) rather than in a critical team meeting or during a call with a vital customer? We build self-awareness through well-designed, realistic simulation experiences that provide opportunities to practice, observe, and reflect. Training simulations create collaborative environments that provide opportunities for rich observations and reflection, helping learners to build awareness in a safe environment.
5. Adaptability
The modern world of work is characterized by a constant state of flux and transition. Technology is advancing at a rapid pace, and the impact of the pandemic highlighted just how adaptable businesses and their leaders need to be. Adaptable leaders use change to expand their skill sets and abilities and even carve out a competitive advantage.
Effective training for greater adaptability involves developing an immersive experience that builds strategic thinking skills and decision-making in a competitive and dynamic environment. A well-designed simulation helps learners connect to the right choices and outcomes using a set of custom scoring metrics and a live leaderboard. Crucially, this specific, predictable feedback enables learners to understand the impact of their decisions, fail forward, learn from their mistakes, and adapt. When there are no obvious right or wrong answers, teams must discuss the pros and cons of each choice and identify the best way to move forward.
Build critical leadership skills with Blueline
These five leadership skills are essential in building today's dynamic workforce, and the best way to develop them in training is through realistic, interactive, and true-to-life immersive learning experiences. If your organization hasn't yet tapped into the power of people skills training for leadership and professional development, then now is a great time to do so. Get in touch with the team to schedule a free consultation.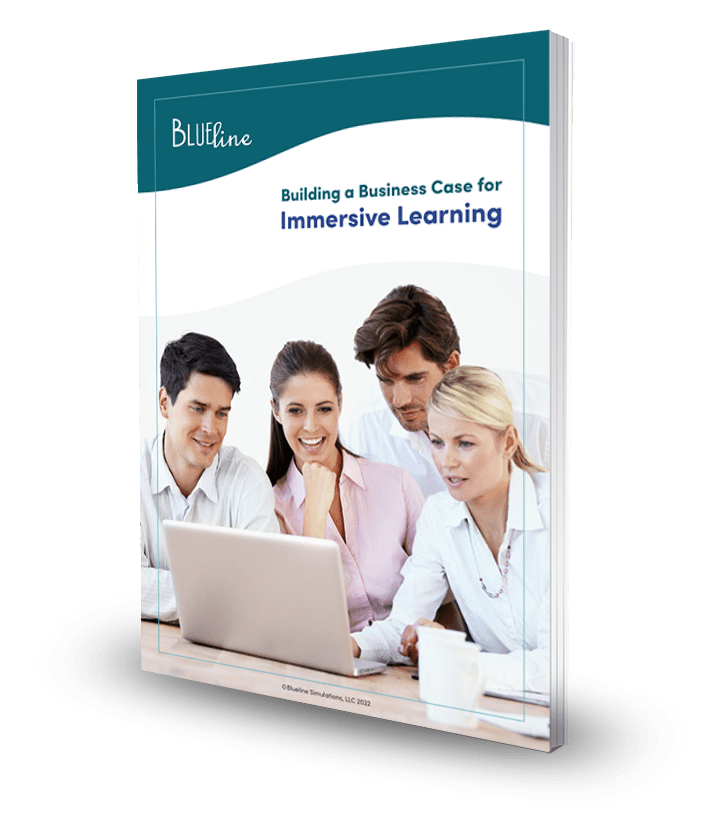 Are you struggling to prove the value of learning to CEOs and executives? Download our free guide!
Build the business case for immersive learning
Demonstrate return on learning investment (ROLI)
Gain buy-in from employees and executives for your learning and development initiatives
It's your job to create your organization's vision, and it's our job to help turn that vision into a blueprint for success.