While many of the factors that influence the workplace change over time, tried-and-true ways of addressing talent challenges remain relevant.
Almost a year ago, we wrote a blog post called Shifting to Hybrid Work: 3 things learners need in a post-covid work environment. Even then, just as hybrid work was becoming an option rather than a necessity, we said: "Investing in employees by developing their skills is a tried-and-true way to increase employee engagement… We can make significant contributions to the success of a hybrid work environment by designing learning that supports employees in their areas of need." According to new data from Microsoft, this statement still stands.
Microsoft recently surveyed 20,000 people in 11 countries to gather data (from LinkedIn labor trends, trillions of Microsoft 365 productivity signals, and Glint People Science findings) to "help leaders understand how to drive alignment and empower people for the new working world." From this data, Microsoft identified three urgent pivot points for leaders to help employees thrive and organizations flourish:
End productivity paranoia.
Embrace the fact that people come into the office for each other.
Re-recruit your employees.
Let's dive into some data supporting each of these required shifts in mindset and behavior.
#1 End productivity paranoia.
Microsoft's data reveal a disconnect between what leaders think about their employees' productivity and what the data imply is going on in home offices around the world. Eighty-five percent of leaders are concerned the shift to hybrid work has made it challenging to have confidence that employees are being productive, but activity and productivity measures captured by Microsoft continue to climb:
87% of employees report that they are productive at work.
The number of meetings per week has increased by 153% for the average Microsoft Teams user since the start of the pandemic, and there is still no indication of this trend reversing.
Overlapping meetings increased by 46% per person in the past year.
As employees become flooded with invites, declines and tentative RSVPs have soared by 84% and 216% respectively.
What can be done to reduce productivity paranoia?
In a working world beset with competing priorities, leaders need to stop worrying about whether their people are working enough and concentrate on providing clarity and guidance to help employees focus on the work that's most important. Fifty-three percent of managers and 48% of employees report that they're burned out at work, so leaders need to intervene to create clarity and purpose for their people by:
#2 People come into the office for each other. Embrace it!
Microsoft's data show that the main reason employees come into the office is for the social connection:
73% of employees say they need a better reason than company expectations to go into the office.
85% would be motivated by rebuilding team bonds.
84% would be motivated by the promise of socializing with coworkers.
73% would go to the office more frequently if they knew their direct teammates would be there.
Since the onset of hybrid work, 51% of employees say their relationships outside their immediate work group have weakened, and 43% feel disconnected from their company. Along with creating opportunities for in-person cohesion, leaders also need to ensure that the day-to-day experience makes employees feel connected to one another.
When it comes to L&D, modern training tools can fuel conversation and empower people to express themselves all while connecting leadership, teams, and employees. Using a team-based learning model keeps hybrid and remote learners communicating and collaborating without sacrificing the undeniable magic of in-person interaction. Done well, team-based learning fosters a culture of commitment and helps to bridge gaps between dispersed employees.
#3 Re-recruit your employees.
The advice from Microsoft Chairman and CEO Satya Nadella is to re-recruit, re-onboard, and re-energize employees. This is sound advice, considering that 76% of employees say they'd stay at a company longer if they could benefit more from L&D support, and 68% of business decision-makers report needing more growth opportunities or they'll pack up and switch jobs.
Facing macroeconomic headwinds, organizations looking to retain employees and prevent quiet quitting should offer regular learning, training, and development opportunities to help employees reskill and upskill. Microsoft's analysis found that 55% of employees say the best way to develop their skills is to change companies—a sentiment that increases as people rise through the ranks. Organizations need to prioritize internal mobility to help employees find their next growth opportunity inside the company, instead of seeking it elsewhere.
Prioritizing employee learning and career development is not only a winning retention formula for organizations, but it's also become an essential way to mitigate the current skills gap that's putting people and businesses at risk. A 2021 report from Gartner found that 58% of the workforce will need new skills to do their current jobs successfully, so upskilling employees helps to future-fit both their careers and the organization's capabilities.
Organizations need to make learning and growth core to the employee experience and create a culture where people are equipped to continuously grow their skills, build their careers, and find purpose—all while helping the organization thrive. Partner with Blueline to help you deliver immersive learning experiences at scale and make growth a core part of employment for all of your staff. Schedule a free consultation.
In the meantime, you can find the full Microsoft report here.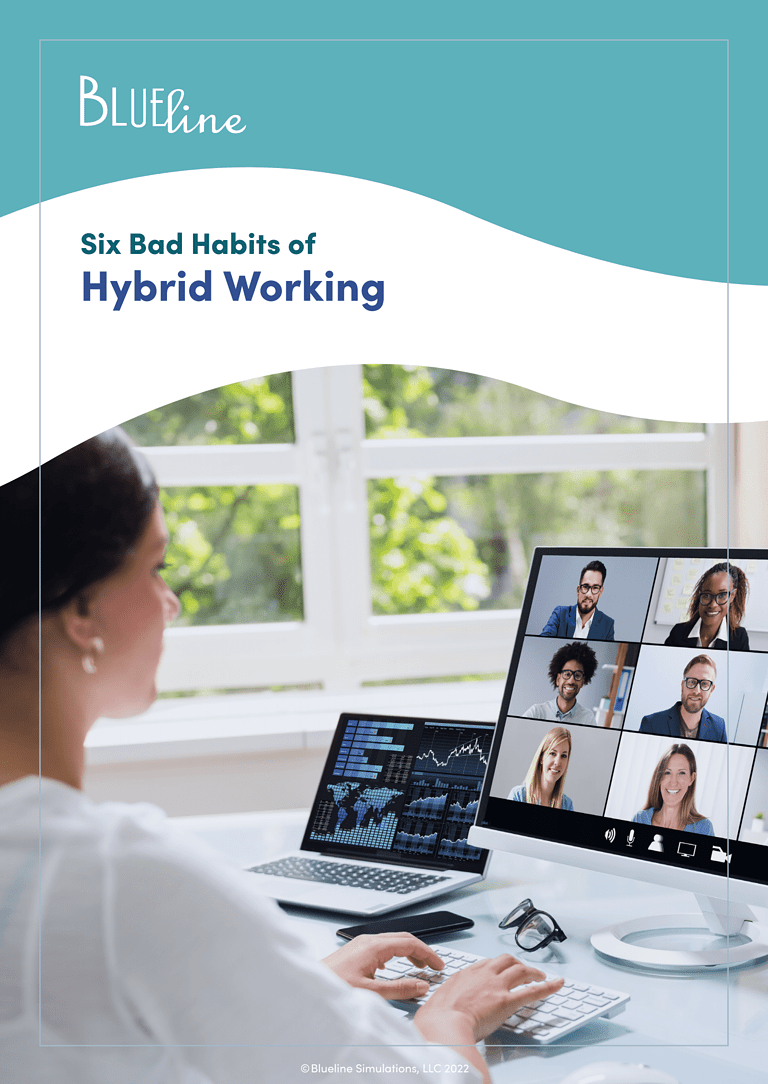 Get Your Free 10-minute eBook: Six Bad Habits of Hybrid Working
Hybrid work is the new normal. Take 10 minutes to read our free eBook to see how many bad habits your organization is guilty of—and how to fix them!