The last few years have brought significant changes to the working world. Many companies are realizing that they need to prioritize career growth and help employees find balance and purpose at work in order to retain top talent. Here are some of the top leadership trends we can expect in 2023 as companies focus on developing and retaining employees.
#1 Creating a positive work culture
With more geographically dispersed employees than ever before, workplace culture has taken a massive hit. At the same time, job hunters say that company culture is a top priority when considering new opportunities. Another challenge to creating a unified company culture was expressed by the 450 chief human resources officers (CHROs) who participated in DDI's Global Leadership Forecast 2023; they said that workplaces will only continue to become more diverse, flexible, and dispersed. As a result, today's leaders will need to be proactive in creating positive work cultures that attract top employees—and inspire them to want to stay.
#2 Prioritizing leadership development
Today's leadership roles are not for the faint of heart. Leaders are facing crises, change, talent losses, rising inflation, increased hiring costs, and the many other pressures associated with business transformation. Historically, this critical pool of talent has been motivated by bonuses, but money is no longer enough. They're seeking leadership development opportunities that are engaging, thought-provoking, collaborative, and truly productive. They intuitively understand that they're going to need to hone their skills to be able to survive and thrive in today's demanding work environment.
#3 Making learning accessible to all
To better meet today's employees' needs for flexibility, companies must provide equally accessible employee experiences, including training, development, and onboarding. Employees want to learn, and they want to be able to do it from wherever they are. For L&D teams, it's imperative to ensure that learning experiences are equally accessible to people within and outside of the corporate offices. They need to deliver consistent learning experiences to employees anywhere—whether in-person, hybrid, or remote. Accessible delivery also extends to new employee onboarding experiences aimed at helping new hires get a fast start in remote and hybrid settings.
We designed our ExperienceBUILDERTM simulations for hybrid delivery. Our simulations create a virtual space for dispersed individuals to engage in meaningful conversations as they work through complex situations, which also helps uncover personal biases and judgmental thinking (both of which are common barriers to creating a positive workplace culture).
You may also be interested in: The common challenges of managing hybrid teams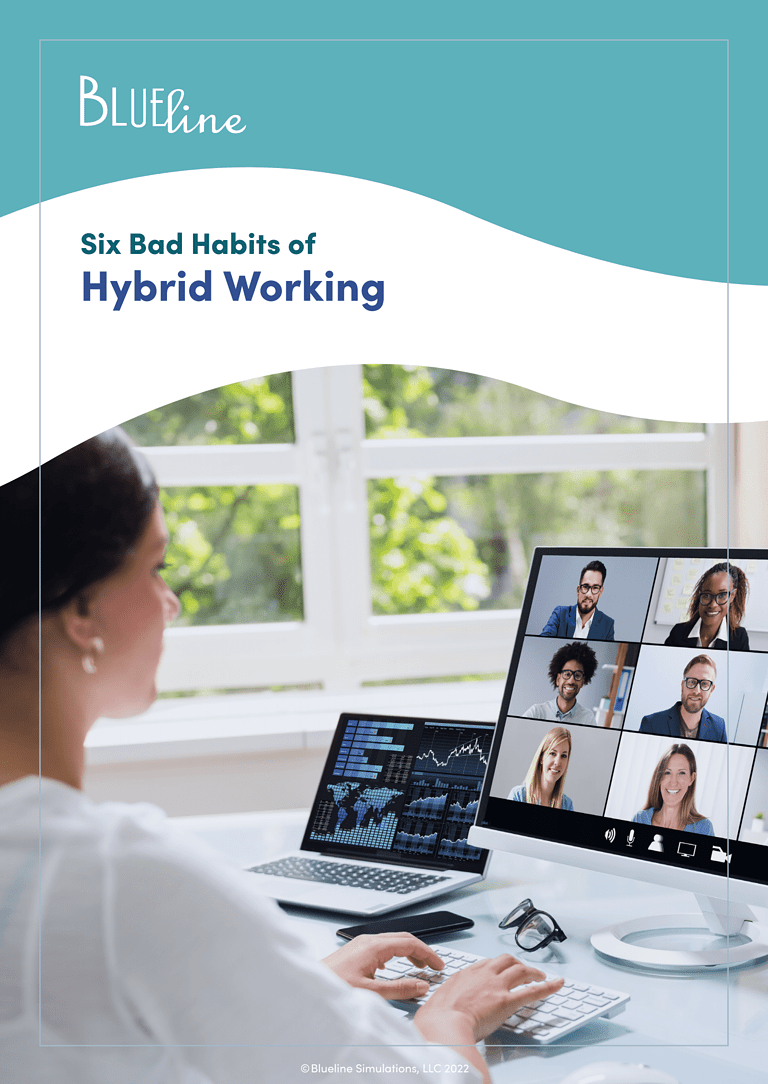 Get Your Free 10-minute eBook: Six Bad Habits of Hybrid Working
Hybrid work is the new normal. Take 10 minutes to read our free eBook to see how many bad habits your organization is guilty of—and how to fix them! 
#4 Identifying top talent
Exacerbated by talent shortages and lean budgets, today's organizations are under increasing pressure to find and keep their best people. Yet, according to the Global Leadership Forecast, only 52% of companies are adequately identifying and developing high-potential employees. Leaders need to be trained to nurture top talent, engage in effective development discussions, and provide individualized learning journeys to help employees navigate successful career paths.
#5 Developing interpersonal skills
In the age of artificial intelligence (AI), McKinsey estimates that the demand for emotional and social skills will grow across all industries by 26% in the US and 22% in Europe. Another driver for improved interpersonal skills is that, amid change and crisis, leaders have had to navigate complex personal discussions with their employees. Some of the interpersonal skills most needed in 2023 include empathy, emotional intelligence, communication, influence, creativity, and critical thinking. Leaders will need to continue to sharpen these skills to manage (on-site, hybrid, and remote) teams effectively, and to navigate the inevitable changes that lie ahead.
Staying ahead of the curve
Undoubtedly, the pace of change in the world and at work is not showing signs of slowing down any time soon. But, as evidenced by these leadership trends, competitive opportunities exist for companies that make their people a priority and develop organization-wide leadership capabilities. In an economic climate of uncertainty and a do-more-with-less mentality, it's essential to demonstrate that you're delivering learning experiences capable of driving change in critical areas.

At Blueline, we help organizations drive leadership competence and culture transformation through immersive learning initiatives. Our synchronous, team-driven discovery learning method allows learners to play in the gray, promotes maximum engagement, and delivers the highest levels of retention and application—whether learners are remote or on-site. Reach out to the team to learn more about how our training and communication tools can help your organization become a preferred employer by providing meaningful opportunities for personal development and business transformation.