Communicate ideas quickly and effectively
How Can You Share Your Story?
Show rather than tell with a quick-draw video or telestration. Our quick-draw videos and telestrations are proven to be invaluable transformation tools, seeding thinking, and opening minds.
Meet One of Our Master Artists
As a classically trained artist, Jonathan Massie spent the first 15 years of his career illustrating and creating graphics for some of the best-known newspapers in the country.
Recognizing the power of conveying business concepts through art, Jon has dedicated the latter half of his career to creating clear and compelling learning visuals to support corporate strategy and organizational transformation initiatives.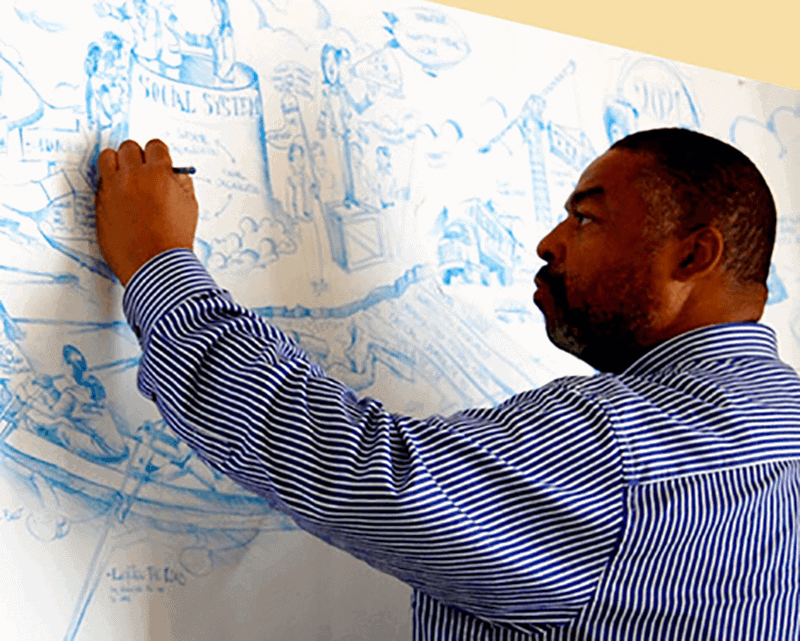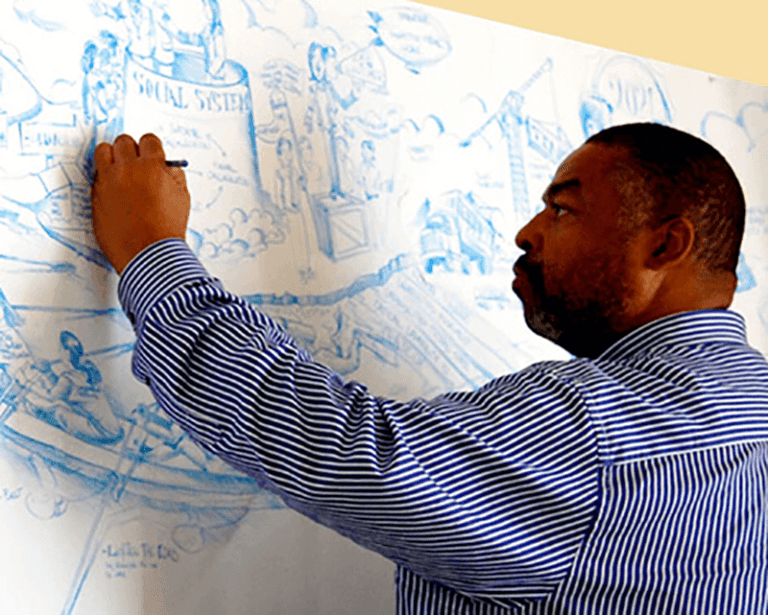 A Behind-the-Scenes Look at Developing a Quick-Draw Video
FROM CONCEPT | Developing a shared vision
Our Art Director and Master Artist collaborate to identify a concept and create an initial napkin sketch (aptly named since so many of these early concepts are generated after hours). Had this been a more typical client engagement, we likely would have captured insights from client stakeholders through Blueline's unique Voice of the Business process.
TO BLUELINE DRAWING | Hand-drawn collaboration with the client
Using the approved napkin sketch as a guide, the Master Artist recreates the initial concept as a poster-sized blueline drawing. He collaborates with the Art Director and our client to ensure the drawing exactly captures the vision.
TO BLACK & WHITE VISUAL | High-resolution art that inspires
Once the blueline drawing is approved, the Master Artist creates a high-resolution black and white version of the visual.
TO COLOR FILE | High-impact visual that engages
The Master Artist then scans the visual into a powerful Mac desktop computer, where he and his team spend days adding dimension and color using Photoshop software.
TO ANIMATION | Bringing the image to life
Once the drawing is complete, the Master Artist retraces the drawing by hand as proprietary software captures his every movement and translates it into a video file that our team edits to match the music and voice track.
TO VIDEO FILE | Communicating ideas quickly and effectively
Every quick-draw video tells a unique and powerful story, whether it's your organization's transformation or something fun and simple like celebrating the 12 Days of Christmas.
It's Simple To Get Started on Your Transformation Journey
Here's how we work with you:
Schedule a free consultation with one of our Principals.
Meet your dedicated Blueline team, who will quickly get immersed in your organization's context, needs, and goals.
Partner with us to build alignment among your internal stakeholders for a learning solution targeted to your objectives.
Experience the power of a Blueline tailored or custom-built training initiative, and watch your vision become a reality.
Want To Learn More About Corporate Learning and Development?
Check out our blog, where we're sharing new ideas, best practices, and cutting-edge research for L&D leaders.