Watch the faces of your employees the next time you tell them they need to learn business literacy. You'll likely see blank stares as they imagine themselves adrift in a sea of numbers, ratios and acronyms.
"Financial acumen training" doesn't get much love from the folks in organizations who would benefit from it most. But we're on a mission to change that. After all, what's more energizing than recognizing that the work you do at your desk has an immediate impact on the financial health of the entire organization?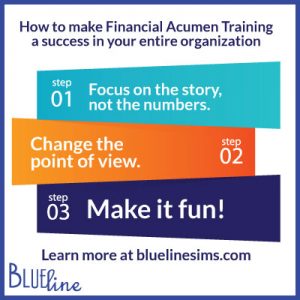 It turns out that "excitement" and "fun" are not such difficult goals in business literacy training. The trick is to make it real and relevant. We do this by:
Focusing on the story, not the numbers. See all of those numbers on the balance sheet? Every one of them is a story. Behind each one is an event, a decision, a problem and/or a human drama that played out in the halls of your organization. Tell the story well, and that squiggly upward-trending line on the graph is suddenly imbued with urgency.
Changing the point of view. A lot of business literacy training is written from the high-level perspective of an accounting professor. But the employees' line of sight (and influence) begins at his or her own desk. Make the connection between the job and the financials first. Once you've established that critical context, you can lead the learner surprisingly far into the deep waters of financial acumen.
Making it fun. Business literacy training is a lot more palatable when flavored with high-engagement learning techniques such as "gaming" principles, compelling story lines and plenty of opportunities to engage with colleagues.
Adult learning theory says that retention increases when learners are able to make immediate application of the concepts to the challenges and pressures they're facing right now. Blueline Simulations' business acumen training does just that.
Contact us today to discuss more about how we can increase the relevance, urgency and fun of your business acumen training.
Save
Save
Save