Grooming New Managers for Long-Term Success
They stand out in a number of ways. Their ability to lead and have others willingly follow is a true gift. You've pegged them as the people you believe can successfully lead your organization into the future.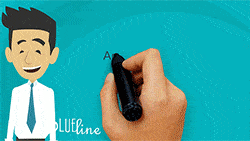 But how do you ensure these shining stars have the skills to rise to the occasion? How do you teach the strategies necessary to not only survive but also thrive in the future? And how do you develop the leadership qualities that typically are only acquired through experience?
Of the many answers out there, Blueline Simulations knows of one that sets the bar high, producing real and lasting results – PeopleSIM™: Performance Coaching.
PeopleSIM™: Performance Coaching is an immersive esimulation that challenges new managers to address performance gaps and establish expectations in a realistic setting – while receiving immediate and continuous feedback. Optional classroom and/or virtual classroom elements can be added to create a fully transformative experience.

We're impressed with the results we've seen and think you will be, too.
Contact us today to learn more about PeopleSIM™: Performance Coaching or any of our other custom classroom simulations, Blueline Blueprint™ learning visuals or other innovative delivery methods that have been generating notable business results in leading organizations worldwide for more than 13 years.