Leaders are under ever-increasing pressure as they attempt to deal with economic instability, hold hybrid teams together, and boost employee engagement—all under the context of continued post-pandemic fatigue. Where the lines between office and home expectations blur, leaders face another unprecedented challenge: preventing hybrid work burnout.
My journey as a remote employee started three years before the pandemic. The company I was working for at the time downsized, and sadly, I was the only employee left out of my close-knit team based in Tampa. I helped shut down the studio and started shopping for a small building I could set up as an office in the backyard. Some lumber, a trench, lots of underground cabling, a bit of electrical equipment, many gallons of sweat equity and, at minimum, four new curse words later, I had a place to continue working from my private residence.
At first, no commute, more availability for my young family, and greater flexibility felt great! But as time went on, I learned there were plenty of disadvantages to remote work as well. I couldn't lean over and ask my design partner a quick question. No more water cooler quips and conversations about the latest project. Solutioning now had to be put on a schedule and was no longer spontaneous. I had to over-communicate to help management understand what I was working on as I was outside the organization's traditional structure. That meant more and more meetings.
Motivation became a huge issue. I was alone, in a box, for at least 40-60 hours a week. The lines between my personal and work life began to blur. That availability to my family began to take a toll as my family started to get used to the idea of me being accessible. There is nothing quite like being on a Zoom call with a team of senior executives when your wife steps into the frame in a bathing suit to let you know the pool pump just broke. Quality focus time was at a premium. Distractions started to become the norm.
As my career advanced and my leadership responsibilities grew exponentially, I knew hard lines had to be drawn. Despite those early struggles, I was actually in a better position by the time the pandemic shut down the country. I had already worked out many of the kinks around remote and hybrid work. That difficult time allowed me to mentor and help shape virtual work for my colleagues, learning from these challenges. Leaders across the world had to learn how to cope with this new way of working, both personally and for their teams.
According to Development Dimensions International's Global Leadership Forecast 2023 report, 72% of leaders felt used up at the end of the workday, a strong indicator of burnout. A study by Microsoft found that 48% of employees and 53% of managers have experienced burnout in the workplace in the hybrid era. We've seen this play out first-hand with our clients' employees, many of whom seem chronically overworked, despite now having the benefit (or is it?) of working from home or only going to the office a few days a week. Here are a few research-backed observations we have made along the way.
Virtual meetings contribute to hybrid work burnout
Many people with whom I interact are late to meetings because their previous meeting ran late, or they've had to quickly run out to grab a drink of water. Straight after our meeting, they're rushing to the next one. I'm also noticing more people scheduling meetings outside of general office hours. There are several reasons for this:
People are scheduling meetings for conversations that usually would have taken place face-to-face in the office (Zoom went from hosting 10 million meetings per day in December 2019 to 300 million meetings per day in April 2020)
Leaders don't feel like they're as in touch with their teams, so they schedule more meetings
Back-to-back meetings mean that people can't catch a break and are forced to do their 'real' work after hours
The result? What's become colloquially known as Zoom fatigue—exhaustion that stems from the increased demand for virtual meetings, leading to the sensation of being drained after participating in videoconference after videoconference.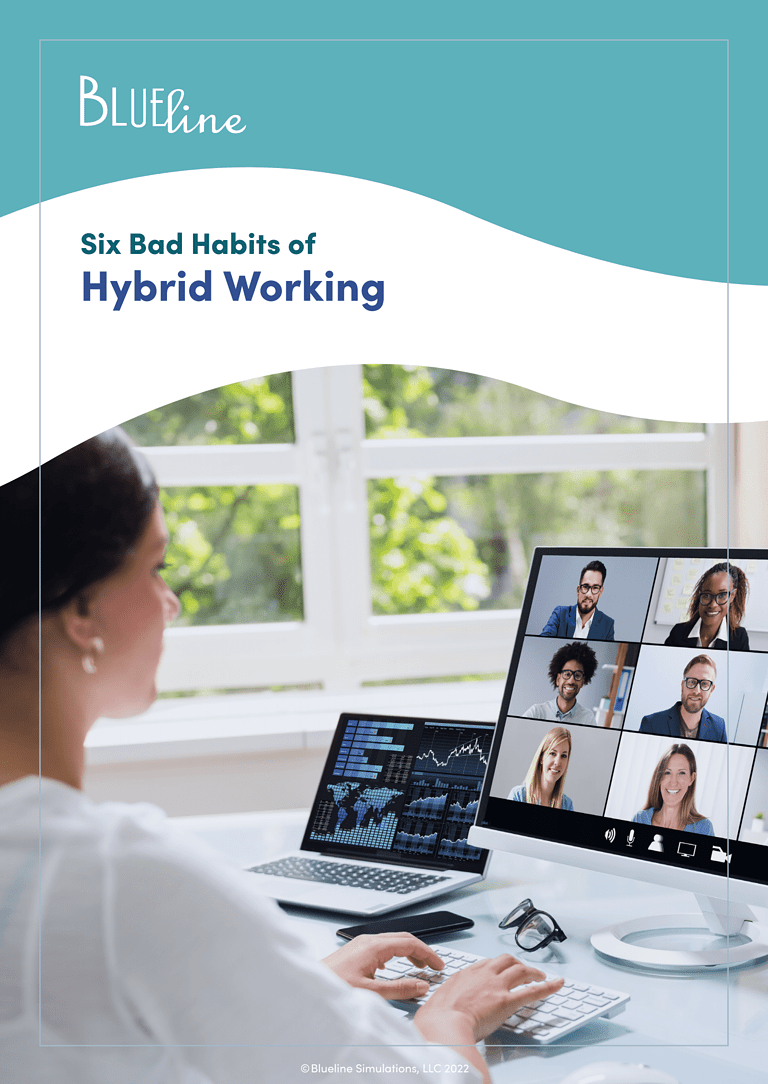 Get Your Free 10-minute eBook: Six Bad Habits of Hybrid Working
Hybrid work is the new normal. Take 10 minutes to read our free eBook to see how many bad habits your organization is guilty of—and how to fix them! 
Strategies to prevent hybrid work burnout and get the best out of your people
Here are some proven strategies to counter the threat of hybrid work burnout and unlock people's true potential.
Use the good time for the good work
A study done by Anders Ericsson claims that most people can't do more than 4-hours of deep work in a day. Cal Newport, author of Deep Work, suggests the same in his book.
People also tend to be less productive in the afternoon. A study collected computer usage pattern data from 789 office-based employees over two years. Its findings suggest that:
Fatigue and stress can accumulate throughout the workweek
Workers' output varied depending on the time of day, with reduced computer usage observed in the afternoons and a significant decrease on Friday afternoons
Friday afternoons also saw employees making more typos
Creating an organizational culture that enables people to identify their productive patterns and schedule work accordingly can be powerful—allowing for focus time when they're at their best, and saving less 'brainy-heavy' tasks or complete breaks when they're not as switched on.
Which brings me to my next point…
Give people autonomy
One of the reasons hybrid workers often find it challenging to focus on (or switch off) from work is that they don't have control of their own schedules. Yet empowerment and autonomy lie at the heart of employee productivity. Gartner's research emphasizes that granting employees control over their work schedules yields remarkable results. Those with the freedom to choose when they work perform 2.3 times better and experience 1.9 times less fatigue. Giving employees control of their calendars helps them use their good time for their good work, and ensures that they don't get over-scheduled without any say.
Create distraction-free time
The clamor of constant connectivity is anathema to deep work. We see many employees, particularly senior leaders, plagued by the persistent state of partial attention. The concept of "continuous partial attention," coined by ex-Apple and Microsoft executive Linda Stone, underscores the digital deluge that hampers people's ability to focus and contribute at their best. Listening with one ear in Zoom meetings while simultaneously firing out emails, listening to incessant beeps, and fielding urgent calls means never being fully present.
But according to Dr. David Rock in his book Your Brain at Work, we need space, quiet, and a fresh perspective to gain those elusive "aha" moments of inspiration; i.e. the truly valuable work. If we want to make space for cognitive clarity and innovation, we could all benefit from being more disciplined in the practice of carving out distraction-free periods in our schedules and guarding this time as diligently as any other commitment.
Consult with teams when designing hybrid work environments
Embracing hybrid work requires a collaborative approach, which is why leaders should design effective hybrid work models in consultation with their teams. This not only cultivates a sense of ownership and autonomy but also enhances performance—according to Gartner, employees who contribute to their organization's work design perform 2.5 times better and are four times more likely to report lower fatigue.
Cultivate a culture of health and well-being
Organizations should take an honest look at their culture to see how it's supporting or detracting from employee well-being. These days, creating a workplace culture that prioritizes employee well-being is non-negotiable. Embracing regular breaks between focus time and meetings, promoting holistic health, encouraging boundaries between work and personal lives, and even implementing meeting-free days can help employees be more engaged and productive—and more likely to remain with the company. 
A new mindset for a new world of work
When managed properly, hybrid working has the potential to give employees the autonomy and flexibility to do their best work and help employers increase revenue and reduce costs as a result. If your leaders could benefit from immersive training to help them address common hybrid challenges, get in touch with the team to learn how we did just that for a Fortune 150 pharmaceutical company.