Few of us have been spared the monotonous training program replete with what seems like a million text-dense PowerPoint slides and a talking head in front of the room "teaching" us. I don't know about you, but I can't say I ever learned much – if anything – from that type of training.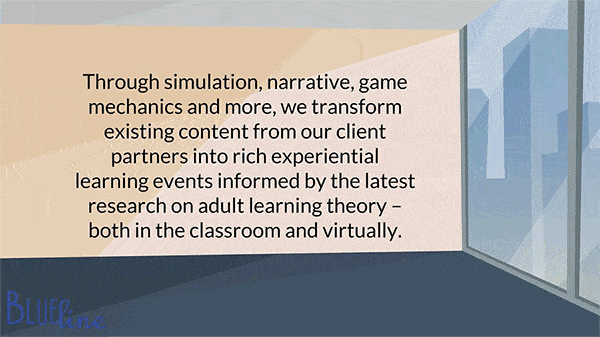 As noted training expert Bob Pike so deftly put it: "If telling was teaching, we'd all be geniuses by now."
The good news is that training departments across the country have taken note and are taking the turn to experiential, immersive training – where learners are active participants in the training and come away with solid skills and strategies they're eager to take back to the office and apply right away.
In other words, they're creating and delivering the kind of learning that works.
Content revamped
At Blueline Simulations, we don't believe you should have to start at square one when going from "instructor led" to "experiential and immersive." After all, the heart of the issue is seldom the training program content; rather, it's how the content is delivered.
Through simulation, narrative, game mechanics and more, we transform existing content from our client partners into rich experiential learning events informed by the latest research on adult learning theory – both in the classroom and virtually.
We also have been known to take it up a notch or two for a fully immersive approach where learners step away from the office and into a broader world dense with learning opportunities.
How does a trip to Disney World, Starbucks or an Apple store sound? We're talking about whole-body, fully kinesthetic learning in which learners are plunged into worlds dissimilar from their own… all for the purpose of unearthing big ideas that can transform their own businesses. The insights clients have gleaned from these experiences have been described as "revolutionary."
Next week, we'll take a closer look at these "full immersion" learning events and draw out some principles that will enable you to begin considering your own.
In the meantime, I invite you to contact us to learn more about any of our custom classroom simulations, Blueline Blueprint™ learning visuals or other innovative delivery methods that have been generating notable business results in leading organizations worldwide for more than 13 years.